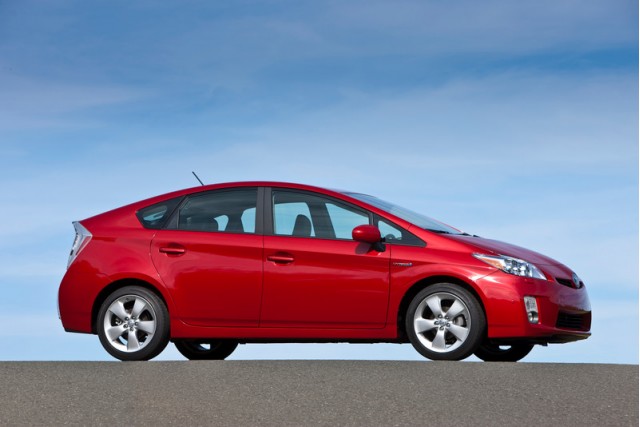 2010 Toyota Prius
Which is greener: a Toyota Prius or a Toyota Corolla? They're both roughly the same size, and when you think quick, it seems that the Prius would be the no-brainer choice for greenies. The Prius, after all, gets an EPA Combined 50 mpg, while the Corolla gets (an EPA Combined) 30 at best.
But if you think a little more about it, the question gets a little more complicated: What about the extra raw materials that go into a hybrid's battery pack? What about its longer assembly process, and its more complex powertrain?
Those all take additional energy, right?
Turns out it's not so relevant over the long haul. From peer-reviewed papers from top-notch environmental and scientific sources, it's been found that extraction of raw materials and assembly of motor vehicles take relatively small amounts of energy next to the energy that a vehicle will use over its lifetime. According to a 2000 report from the MIT Energy Laboratory, about 75 percent of the lifetime carbon emissions come from the fuel it burns, and another 19 percent comes from the production of fuel.
And that's why, in determining our High Gear Media Green Ratings, we give kudos and tiebreaker nudges for special green manufacturing claims, but rate vehicles based on energy use.
And when it comes to energy use (at least before the 2011 Chevrolet Volt and 2011 Nissan Leaf hit the market), the Prius is still the most fuel-efficient passenger car on the market. That can be seen either in the EPA's fuel economy ratings, or in the EPA's Green Vehicle Guide.
2008 HUMMER H2
Several years ago, a controversial non-peer-reviewed study had suggested that, dust-to-dust or cradle-to-cradle, through the entire lifecycle, including research and development and everything through recycling, a HUMMER would do less damage to the environment than a Prius. A big Prius vs HUMMER controversy erupted around that challenge—and sparked
this piece, one of The Car Connection's most popular stories ever
.
Toyota at that time had cited some of that scientific research showing that end-of-life recycling and disposal use disproportionately small amounts of energy, but at that time the automaker didn't have any numbers to share about how much the Prius takes to manufacture, compared to its non-hybrid compact models, for instance.
According to Automotive News, Toyota has taken up the topic, and revealed that it did indeed find that during the "materials manufacturing" stage of the Prius' lifecycle, it is worse than average for the class in five emissions categories. Toyota has used the results in its redesigns of the Prius, along with other hybrids such as the Lexus RX 450h and Lexus HS 250h.
So the Prius might take a little more energy than average to make. But is it greener than a HUMMER? You bet.