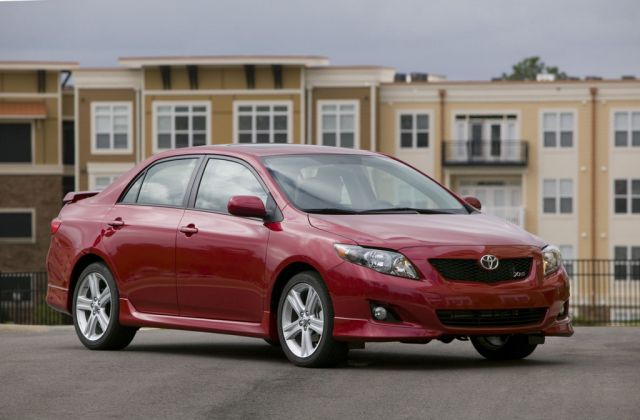 2009 Toyota Corolla
Don't ever think that what you're driving is too plain or unattractive to be the target of thieves. Its ubiquity might actually make it a more likely target.
That's one of the lessons in looking at the annual list of most-stolen models from the National Insurance Crime Bureau (NICB). Older Honda Accord and Civic models remain the most stolen vehicles in the nation, while among late-model vehicles, the 2009 Toyota Corolla ranked at the top (tenth overall).
While other reports look at the amounts of insurance losses, the NICB's Hot Wheels 2010 report focuses on the actual number of instances of theft.
These numbers were obtained through the FBI's 2009 Uniform Crime Report, released last week. As we reported, vehicle thefts overall were down last year, but fewer vehicles were recovered. In 2009, 794,616 vehicles were reported stolen in the U.S. That's 17.1 percent lower than 2008, and continuing the downward trend of recent years.
The NICB says that through August of this year, 97,655 vehicles have already been listed as stolen but not yet recovered. Of those, 38 percent of owners don't have insurance to cover the loss.
It might come as a little surprising that older, more common vehicles are more frequently targeted; but it makes sense for criminals: older vehicles are less likely to have modern anti-theft devices like immobilizers, alarms, and tracking devices. And if they're among the most common models, there's a strong market for their parts.
"As our Hot Wheels report shows, many of these thefts end up in chop shops where they are turned into replacement parts," said NICB president and CEO Joe Wehrle in a release.
Newer, more expensive vehicles are more often stolen by a different type of car thief, who intends with organized-crime cohorts to resell the vehicle intact, either with a fake identification number or overseas where it might not be checked.
For 2009, the most frequently stolen vehicles in the U.S. were, according to the NICB, the 1994 Honda Accord, 1995 Honda Civic, 1991 Toyota Camry, 1997 Ford F-150, 2004 Dodge Ram, 2000 Dodge Caravan, 1994 Chevrolet pickup, 1994 Acura Integra, 2002 Ford Explorer, and 2009 Toyota Corolla.
The report also breaks down the most-frequently stolen vehicle by state. Those results aren't that surprising, with a number of best-selling models ranked at the top, with a few regional variations; for instance, in Vermont the most frequently stolen vehicles are the '98 Subaru Legacy and '05 Jeep Grand Cherokee, while in much of the Northeast the Civic of varied years ranks on top and in the South and plains states it's full-size pickups from Chevy, Dodge, and Ford.
The lesson, again: Never think that your car isn't of interest to thieves.
The NICB recommends that all car owners use four layers of protection to keep thieves away, or stop them if they try to target your vehicle:
NICB's four layers of protection are:
Common Sense: Lock your car and take your keys. It's simple enough but many thefts occur because owners make it easy for thieves to steal their cars.
Warning Device: Having and using a visible or audible warning device is another item that can ensure that your car remains where you left it.
Immobilizing Device: Generally speaking, if your vehicle can't be started, it can't be stolen. "Kill" switches, fuel cut-offs and smart keys are among the devices which are extremely effective.
Tracking Device: A tracking device emits a signal to the police or to a monitoring station when the vehicle is stolen. Tracking devices are very effective in helping authorities recover stolen vehicles. Some systems employ "telematics" which combine GPS and wireless technologies to allow remote monitoring of a vehicle. If the vehicle is moved the system will alert the owner and the vehicle can be tracked via computer.
[NICB]