Fiesta iPad App
Do you have an iPad? Do you want a Ford Fiesta? Well then you are in luck! Ford announced today that they are releasing a Fiesta iPad app in the Apple App Store.
Ford says the app for consumers is meant to "deliver the interactive brochure experience which allow them access to information and videos that about the cars features and content." The Fiesta has been the star of Ford's huge entrance into the realm of social media, starting with the Fiesta Movement which many considered to be a success. 
The Fiesta app could quite possibly be Ford's big entrance into the mobile scene. Other manufacturers such as Volkswagen and General Motors have released iPhone apps with a ton of success. Ford is definitely hopping onto the mobile train and not a moment too soon, though I found it interesting Ford only choose to go with the iPad leaving out the iPhone and iPod Touch.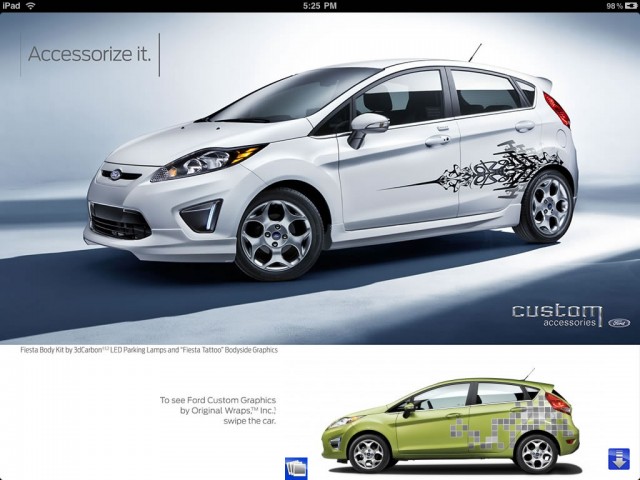 Fiesta iPad App
"Fiesta target consumers are heavily digitally inclined and often lead the way with new technology adoption. The Fiesta App gives these customers the information they want, in a format they expect," said Thomais Zaremba, Ford car marketing communications manager. "It's another way for us to reach out to customers in the digital and social media space."
The app is touted as interactive and simple. Featuring the 15 class exclusive features and of course the 40 mpg fuel economy rating, the app is nothing short of informative. Though the information consumers will find in the app is nothing new. The cool part is it is interactive. Consumers will be able to customize their Fiesta from within the app and see what it would look like. Seeing as this is a free app, that is pretty cool if you are already interested in a Fiesta.
The app is available here for free in the App Store 
[Ford]