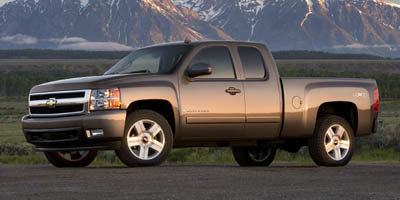 2008 Chevrolet Silverado 1500 LS
Each day, the editors here at High Gear Media get questions from car shoppers who want a direct opinion on what they should buy. We're always happy to give our hands-on experience out in the form of advice (though we're also keen on getting you to share your brains and to write for High Gear Media Web sites).
Today, we're talking about trucks and SUVs with someone in the market for a lightly used, more than light-duty hauler. Jon Adams wants to know whether a pickup truck or a rugged SUV would be best for him. He writes:
"Which is a better vehicle to purchase for quality, ride, fuel economy and better all-around [performance]: a 2008 Jeep Grand Cherokee Limited 4WD 5.7 liter HEMI or the diesel 3.0, or a 2008 Cheverolet Silverado 1500 4WD LT2 Z71 4WD? Or is there something better than those in that price range that's a truck or SUV?"
It's a good question. The needs of most drivers fall somewhere between sport-utility vehicles and pickup trucks--and since it can be an important distinction over the life of the pickup or sport-ute, we asked Jon about his primary needs for the vehicle, whether it will be carrying people or cargo more often.
"The primary purpose is for in-town driving and some highway driving. I do have a hunting farm where sometimes I haul a trailer with a four-wheeler. I am usually driving by myself. I currently own a 2003 GMC Sierra Ext cab 4WD SLT loaded, but looking at some of the specs on both vehicles the Grand Cherokee and the Cheverolet pickup, the Jeep appears to be better in certain areas.  Should I make my decision based which one I get the best deal on or is there an obvious difference in vehicles as far as quality, ride, fuel economy and all-around [performance]?"
What we recommend first, and always, is to read our full reviews of the 2008 Jeep Grand Cherokee and the 2008 Chevrolet Silverado. A quick scan shows both vehicles score the same on the overall numeric rankings, at 7.6 out of 10. But digging into our separate pages on comfort, utility, and performance, there's a big difference in what we like for each vehicle. In general, the Jeep's interior comforts are more pleasing--but the Silverado's capabilities give it all-around performance with nearly the levels of interior comfort. And for hauling a four-wheeler every so often, there's simply no match for a full-size truck.
We recommended that Jon might be happiest with another GM truck for those reasons. As an aside, the Silverado seems to have a better overall reliability record than the Grand Cherokee, which is probably the first thing any buyer should consider, even if it's a vehicle you will use occasionally. We think the Silverado may ride better than the Jeep, too, and in terms of fuel economy, GM's pickups score just a bit better in city fuel economy. Opt for the Jeep diesel and you'll do much better, though it's a louder, less refined powertrain.
Another option might be the Ford F-150, which has been one of TheCarConnection's best-ranked pickup trucks over time.
In any case, if you're buying used, make sure to have it inspected by a third-party mechanic you trust--and see our TrueCar ratings pages for values of well-kept used examples as you head out on the car hunt.

Each week at High Gear Media, we get dozens of emails from readers looking for answers to their car questions. "Is this normal?" "Did I pay too much?" "What's the best car for me?" While we can answer some of those through our full reviews, TrueCar pricing, and comparisons, we're also looking for questions directly from you. If you need to know something about your current car or your next new vehicle, email us here at feedback (at) highgearmedia [dot] com. If we're able to help, you'll see your question posted here.
2008 Jeep Grand Cherokee