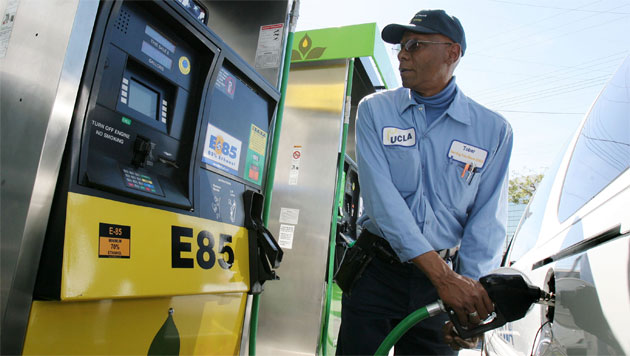 E85 fueling station
The next time you fill up, think about this: What you think of as gasoline might not be gasoline. At least not entirely.
Take a close look at the pump you're filling from; there will be a label with fuel details, and odds are you're probably filling up with E10, a blend of 90 percent gasoline and 10 percent ethanol—usually derived from corn.
Through federal legislation, tens of billions of gallons of ethanol and other biofuels will be mixed in with gasoline by 2022. Ethanol is now blended into about 70 percent of our pump gasoline, and the pure stuff is going to be progressively harder to find—perhaps impossible, depending on where you are.
According to Ethanol.org, a mouthpiece of the American Coalition for Ethanol (ACE), ten states currently require the use of ethanol blends: Hawaii, Iowa, Kansas, Louisiana, Minnesota, Missouri, Montana, Oregon, Washington, and Florida. In California it's also required—though not explicitly—as ethanol remains the only CARB-approved oxygenate. Most other states have some sort of incentive in place, either for ethanol producers, at the pump, or both; and refiners like ethanol as it easily boosts a finished fuel's octane rating.
"Up to a ten percent blend of ethanol (E10) is covered under warranty by every auto manufacturer that sells vehicles in the U.S. for every make and every model of vehicle," states ACE.
For many model years now a significant number of new vehicles are so-called flex-fuel capable, which means that they can accommodate blends up to 85 percent ethanol, or E85. Just a few model years ago the capability was more common in trucks and large SUVs, but now many models, including mid-size sedans like the 2010 Chevrolet Malibu, allow E85.
The down side to E85 is that you'll see lower fuel economy—about 25 percent lower, typically, and you can browse that difference over at FuelEconomy.gov.
The industry acknowledges that E10 affects fuel economy by about two percent, and on some cars, according to a number of publications that test vehicles, the difference might approach five percent or more.
Some claim that the small engines and fuel systems in boats, motorcycles, and mopeds are more vulnerable to damage from ethanol, though it depends who you ask; some mechanics claim that there's no difference.
On the other hand, ethanol does greatly reduce the amount of fossil fuels we import from overseas; it helps reduce our trade deficit; and it creates jobs.
So ethanol good or bad? It's a debate that's been heated for decades, back to We'll spare you the debate about the economics of it, as well as whether or not it's the green choice, but for those who simply want the old-style, E0 stuff, there's the site Pure-gas.org. "If you want to save money on gas, this site is of no use to you," the site amphasizes, as pure gasoline is relegated to specialty status in some places and marked up accordingly.
With E10 solidly entrenched in the refueling infrastructure (and E15 under study) there might not be much you can do about the neighborhood station. But if you have an older carbureted car or are concerned for other reasons, it'll show you where to go.