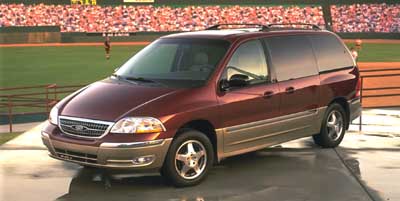 1999 Ford Windstar Wagon SE
Ford is recalling a wide range of its Windstar minivans, from the 1998 through 2003 model years, due to a rust issue that can cause the rear axle to break.
The recall follows up on a National Highway Traffic Safety Administration (NHTSA) investigation that was opened earlier this spring. Although no fatalities or injuries have been reported due to the issue, NHTSA has two reports of it causing accidents, as well as a total of 234 complaints.
If the axle fractures, the official recall notice warns, it "can affect vehicle handling and increase the risk of a crash."
Since it might only become a safety issue in regions that use road salt in winter, Ford is recalling only those vehicles that are either currently registered or originally registered in these states: Connecticut, Delaware, Illinois, Indiana, Iowa, Kentucky, Maine, Maryland, Massachusetts, Michigan, Minnesota, Missouri, New Hampshire, New Jersey, New York, Ohio, Pennsylvania, Rhode Island, Vermont, West Virginia, and Wisconsin—as well as the District of Columbia.  
The recall covers 462,750 vehicles in the U.S., and about 575,000 vehicles in all, according to Ford sources.
For those with the affected vehicles, dealers will inspect them, then install rear-axle reinforcement brackets when necessary, free of charge. Ford will also be reimbursing those who have already made the repair. The effort begins September 27.
Owners may contact Ford at 866-436-7332, or NHTSA's Vehicle Safety Hotline at 888-327=4236.