We've always thought of the Honda Element as one of the best vehicles for dog owners. Thanks to its tall cabin, easy-clean cargo floor, and versatile seating arrangement, it's long been a favorite among active folks with dogs.
For 2010, Honda finally took advantage of the Element's usefulness—or pawtential, we've said—by introducing a new Dog Friendly Element. Our own pooch, Owen, is usually a willing adventurer, if a little anxious as a passenger, so it seemed like a no-brainer for us to hop in a Dog-Friendly Element, test out its creature comforts, and head for a hiking trail.
The Dog Friendly package includes a host of additional accessories, which Owen and I put through the paces on the way to and from our hike. Special second-row seat covers allowed Owen to be belted in with his harness (you should never let a dog ride shotgun, or be loose in the vehicle) in a special dog pattern, as well as rubbery bone-pattern floor mats.
The centerpiece of the Dog Friendly package is a soft-sided car kennel, made by the safety supplier Takata, of seatbelt-grade vinyl webbing. Owen fit into it perfectly, the floor is soft, and it includes a ventilation fan and water dish. All that said, it was a little too claustrophobic for him, especially when we zipped up the screen; but plenty of dogs dig that.
The package also includes an extendable (five foot or so) ramp that stows under the kennel floor in a separate compartment. It would surely be handy for the smaller or arthritic pups, but my hound just didn't get the need for this either.
As we've reported about other Honda Element models in the past, including the 2010 Element, this utility vehicle is hard to beat for people who often have one or two people plus gear to carry. The Element's suicide-type door setup (back doors are hinged at the rear) allows a very wide opening for loading, and the back seats fold down easily, with the tall, boxy body enabling more useful cargo capability than in most other utility vehicles. Only when you try to fit adult passengers in back do you run into the tradeoffs: flat, short cushions back there that aren't very comfortable for longer trips, as well as a door arrangement that requires back doors to be closed before the front ones.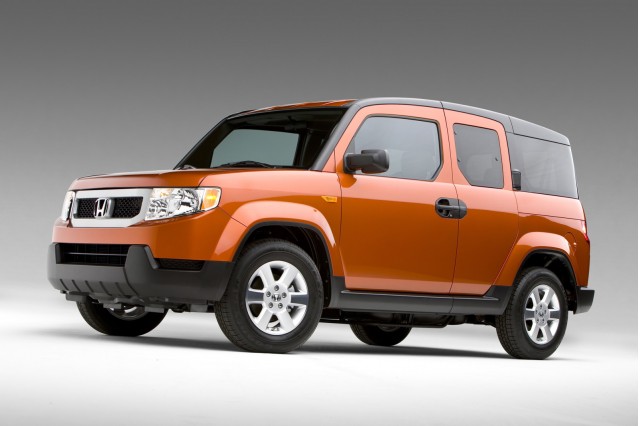 2010 Honda Element
The Element's 2.4-liter four-cylinder engine doesn't have awesome thrust, but it's quick enough, and the five-speed automatic shifts smoothly most of the time (except when rolling back onto the throttle out of a tight turn, when it would often hesitate between gears for a moment). The most surprising thing about the Element, for those who've never driven one, is that it doesn't at all feel tipsy, and even with some crosswinds on the highway it still tracks straight. At lower speeds especially, the Element feels confident and nimble—credit underpinnings that are shared with Honda's small cars.
And it's frugal: Over a week, I covered about 250 miles in all, with and without Owen, and averaged about 25 mpg—beating the 4WD test vehicle's 19 mpg city, 24 highway EPA rating.
The Dog Friendly package costs just $995, which brought the price of our top-of-the-line 2010 Honda Element EX (with navigation) up to $27,365. I'm pretty convinced that's a good value, but Owen is still hinting that it could buy the mother lode of kibs.