2010 Nissan Pathfinder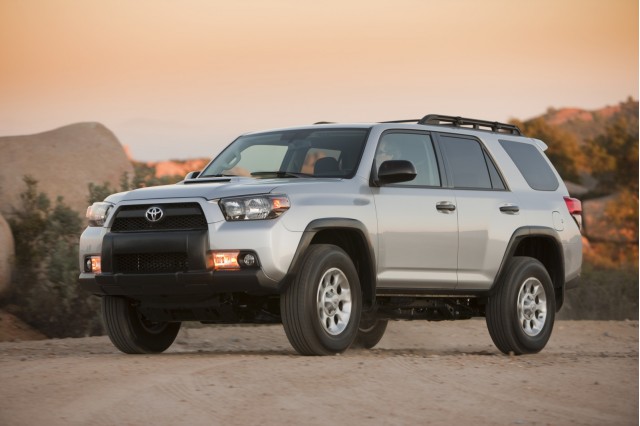 2010 Toyota 4Runner Trail
Several popular mid-size SUVs from Nissan and Toyota—the 2010 Nissan Xterra, Toyota FJ Cruiser, Toyota 4Runner, and Nissan Pathfinder—have earned only lackluster rollover ratings in the latest round of testing from the Insurance Institute for Highway Safety (IIHS).
But these ratings, just released from insurance-funded testing authority, don't say anything about the vehicles' propensity to roll over (unlike those from the federal government); rather, they gauge the likelihood of serious injury and the amount of structural protection that a vehicle will provide in the event of a rollover.
In the IIHS rollover (roof crush) test, a metal plate presses against a particular area of the roof that's crucial for resisting rollover injuries, and the peak force is measured before deforming five inches. That's then represented as a ratio to the vehicle's weight. In order to earn a top 'good' score in the IIHS test, a vehicle needs to achieve a strength-to-weight ratio of at least 4.0. Current federal standards require a ratio of 1.5, but a new standard to be phased in by 2016 will require twice that.
Overall, the 2010 Nissan Xterra, Toyota FJ Cruiser, and Toyota 4Runner earned 'acceptable ratings
The 4Runner was the best in this bunch, able to withstand 3.87 times its weight; the Toyota FJ Cruiser took 3.47 times its weight, while the Xterra managed 3.28.
Meanwhile, the heavier 2010 Nissan Pathfinder could withstand just 3.07 times its weight, earning a 'marginal' rating in the test. Earlier in the year, the 2010 Nissan Frontier pickup, with which it's closely related, earned a top 'good' rating.
Since rollovers are still more likely for SUVs as a vehicle class—even with electronic stability control, there's more of a chance that the vehicle might be 'tripped' by a curb or soft shoulder—rollover protection should be even more of a concern when shopping for a next vehicle.
A number of vehicles in this class—including the Jeep Liberty, Dodge Nitro, Toyota Highlander, Toyota Venza, Jeep Grand Cherokee, Dodge Journey, Ford Flex, Kia Sorento, Chevrolet Equinox, and GMC Terrain—have earned top scores in the roof test, and only the Honda Pilot, Mitsubishi Endeavor, and Honda Accord Crosstour have managed lower scores in this so-called 'Midsize SUVs' category.