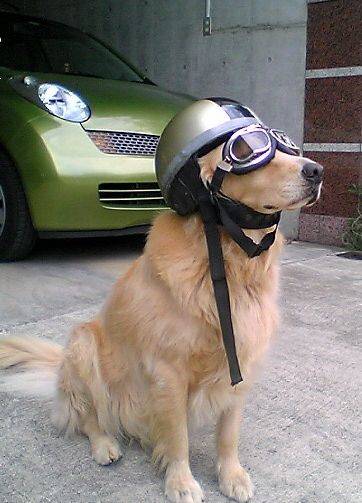 Dog in driving gear
Your dog may in fact "want to go for a ride"--but that ride could end up hurting you both, according to a survey from the AAA Foundation for Traffic Safety.
The charitable wing of the roadside-services provider says as many as one-third of dog owners report their pets distracted them while driving. Worse, nearly a quarter of them say they let their animals ride on their laps--and some even say they play or entertain their dogs while driving.
The AAA recommends all pets be leashed with a harness and be enclosed in a discrete area of any moving vehicle, but they add some drivers don't understand the physics of moving bodies in a car accident.
"An unrestrained 80-pound dog in a crash at only 30 mph will exert 2,400 pounds of pressure," says Jennifer Huebner, AAA National, Traffic Safety Programs manager."
About one-quarter of drivers polled also allowed their dogs to ride in the front seat of the car--a position the AAA says is exceptionally dangerous, due to airbags that can cause more injury than a car accident itself to a pet.
Every pet should be restrained with the same safety measures you take for small occupants. If you haven't outfitted your car with any pet-friendly safety gear, we suggest you check out information provided by pet-friendly carmakers like Honda, Volvo, and Subaru for the latest hardware and tips--and make sure to get the ASPCA's traveling-with-pets checksheet for making your trip with your pets as safe as possible.