Officer with speed gun
Planning a roadtrip over the long holiday weekend? Here are some things to consider:
1. Are there enough things to do during the day and at night? ("Things" being historic tours, napping, or bikini contests, depending on your point of view.)
2. Are there ample activities for kids? (This is important whether or not you have children.)
3. What's the likelihood that I'm going to nab a speeding ticket?
Yes, believe it or not, some people -- even people we know -- select their vacation spots based on the availability of open road and the absence of law enforcement. And although speeding is a very bad idea, not to mention illegal, if you're the sort of Leadfoot Larry (or Lisa) who wants to blow out the engine in peace, we have a few destinations to suggest.
These come from a recent study conducted by the National Motorists Association, which is, just for the record, a group devoted to libertarian driving laws. (Translation: higher speed limits, no DUI roadblocks, and the elimination of traffic cameras.) No matter how you feel about the organization's politics, though, the data it's collected on traffic ticketing looks solid.
The NMA evaluated all 50 states and the District of Columbia based on a series of 17 fairly straightforward questions like:
What is the state's freeway speed limit?
Does the state require motorcyclists to wear helmets?
Does the state outlaw mobile phone use while driving?
Does the state allow radar detectors?
The NMA then analyzed that data and ranked states from worst to best, in terms of "driver-friendliness". Zippy road-trippers should probably avoid places at the top of the list like New Jersey and Ohio, where road blocks and speed traps abound. The five states following here, however, might be just what the doctor ordered:
Mammoth Cave
#5: Kentucky
Kentucky is easily one of the most picturesque of all 50 states. Between the hills and mountains and dozens of scenic byways, it's a driver's paradise -- especially in summer. Got kids? They'd love a visit to Mammoth Cave. Alternately, if you're taking a tyke-free trip with someone special, you might enjoy a visit to the Jim Bean distillery, right outside Louisville. Just remember: no matter how few roadblocks there are in Kentucky, keep an eye on your "sampling".
Carhenge
#4: Nebraska
Nebraska is sometimes considered a flyover state, but if you've ever had the pleasure of seeing it from the ground, you know there's a lot to enjoy -- especially from behind a steering wheel. Kids and adults will both like exploring the Lewis and Clark Scenic Byway, which runs along U.S. Highway 75, just west of the Missouri River. (Be sure to ask about the state's summertime Passport Program, which offers nifty prizes for travelers.) And of course, what car nut could visit Nebraska and not take in the glory of Carhenge?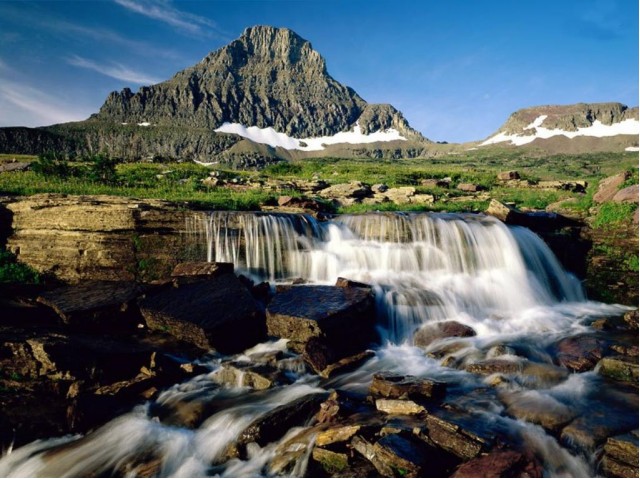 Glacier National Park
#3: Montana
Summer is the perfect time to visit Montana: the terrain is lush and dramatic, and the climate offers a welcome break for those who live in warmer parts of the country. Obviously, you should consider hitting the two big guns of American national parks: Glacier and Yellowstone. The drive to either is something you'll remember for a long, long time -- though Glacier National Park is usually less crowded than Yellowstone, which is something for the speed-minded to consider. Big Arm State Park offers a quieter alternative, and as an added bonus, you can stay in a yurt.
Lava Hot Springs
#2: Idaho
Idaho puts up with a lot of potato jokes, but only from people who've never visited. If you're traveling through the state with kids, take our advice and hightail it to Lava Hot Springs: you can send the little ones off to the Olympic Swimming Complex -- which comes complete with an assortment of speed slides -- while you (and your other half, if you've got one) slip into the natural hot springs. And if you're looking for some slightly more adult entertainment, check out Idaho's dozens of breweries.
Devil's Tower National Monument
#1: Wyoming
Finding Wyoming at the top of the NMA's list of driver-friendly states isn't really a surprise: when we think of blue sky and open road, we often remember college road trips down the long, sun-dappled stretches of I-80. For pure peace and beauty, nothing compares to Devil's Tower National Monument. It's a stunning geological structure, and movie buffs will immediately recognize it from Spielberg's early classic Close Encounters of the Third Kind. Or, if you're up for a little spa-style pampering, head over to Jackson Hole, one of the premier resort towns in the western U.S. A few days at the Hotel Terra or the Four Seasons will be more than enough to recharge your batteries -- over the 4th of July weekend or anytime.
[Motorists.org via MSN]