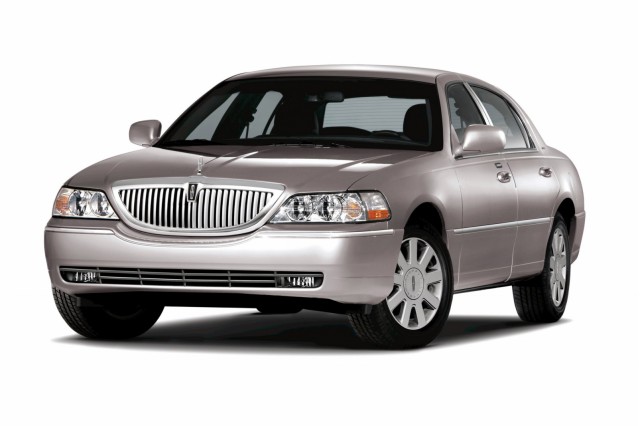 2010 Lincoln Town Car
green taxi
Taxi-cab companies, police forces, and executive-car services will soon be left scrambling for vehicles. That's because, after years of speculation about the matter, Ford Motor Co. (NYSE:F) is expected to discontinue its large, body-on-frame, rear-wheel-drive sedans about a year from now.
After a 30-plus-year run with the same basic mechanical underpinnings—and only one major redesign, for 1992, the Crown Victoria has been a staple for cab companies and police forces; while the related Lincoln Town Car has long been a favorite of livery companies (it makes up 75 percent of those fleets).
In New York leading contenders in the taxi fleet include the Ford Escape and Toyota Sienna, as well as the Toyota Prius.
Ford stopped offering the Crown Victoria to all but fleet customers back in 2008, but it's continued to sell its sibling, the Mercury Grand Marquis, in model years since.
These large sedans remained so popular for so long for several important reasons, including pillowy ride quality, a roomy back seat, a huge trunk, a good safety record, low repair costs, and longevity. It wasn't unusual to see well-kept vehicles in some fleets with more than 400,000 miles on the clock.
Pending federal fuel economy rules might have something to do with Ford's decision not to continue making these sedans which, this writer has previously been told have a rather high profit margin. The 2010 Lincoln Town Car and the 2010 Mercury Grand Marquis are rated at an EPA 16 mpg city, 24 highway.
About 25 years ago, as old Checker Marathon cabs were being retired, taxi fleets grew to favor the Crown Victoria. Other rivals at the time included GM's full-size cars like the Caprice, though that model suffered from an ill-received refresh in the 1990s and was discontinued shortly thereafter.
2007 Ford Interceptor concept
Chrysler has been offering an increasingly popular Dodge Charger Police edition, but these models haven't caught on in other fleets. Ford has been working on a new rear-wheel-drive platform related to that in the Mustang, and suggested with this
2007 Ford Interceptor Concept
, but company finances and fuel economy spikes were factors that led to the project's demise.