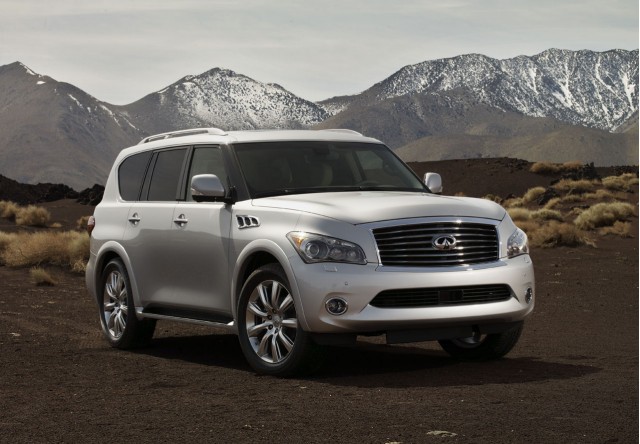 2011 Infiniti QX56
Now that World Cup fever has left the building, and most of our Wimbledon contenders are in business class to JFK a little earlier than usual, we feel the need for some global news to keep us from slipping our blinders back on--from setting our sights no further than our rather lightly patrolled borders.
But this is TheCarConnection, and not MacNeil/Lehrer, you know. So today, your international flair comes in the shape of the spiffy new Infiniti QX56, which we drove recently in the heartland of heartlands--in Louisville and around Kentucky's Bourbon trail, which doesn't attract much French royalty anymore and is arguably better off that way.
We're calling this story international, because the QX56 is no longer built in Mississippi and no longer feels like a warmed-over version of the last Chevy Tahoe. In between rounds of culture at the semi-astonishing 21C Museum Hotel and serious homemade pecan pie out in the surrounding sticks, I decided the move back to its roots in Japan had made the QX56 all the better. And I decided in favor of more pie.
While Nissan still dithers over the future of the U.S.-made Titan truck and Armada sport-ute, the QX56 has turned into one of the gems of the large luxury SUV niche, with a couple of flaws. It does not look completely balanced. Those fender vents and its tall forehead make us think Marcia Cross has hit the bottle and started shopping at Claire's. But then, you look at the sideview, and those lapses blur, and you see loving hints and glimpses of those frank old Monteros, Troopers, and Nissan Patrols past.
It's the correct vibe, because it's authentic: this QX is mostly new Nissan Patrol underneath, though it takes on some fitting Infiniti fitments. The big one is a throbbing V-8 from the M56 sedan that had us at top-dead center. There's also a gentle seven-speed automatic, a clever air suspension that flattens out handling a touch, and a library-inspired cabin with burly trim, buttery leather. Over it all, there's a soothing harmony you'd be hard-pressed to identify in the glitzy Cadillac Escalade.
The QX56 also comes in well under the Escalade price points, and undercuts most Benz GL utes, too, though a finely dressed Lincoln Navigator is still out there, probably pining for its heyday of the early 2000s.
Everyone's hurting in this class, but if you're still looking for a tough guy with classic good taste, the QX56 is a top contender--if just shy of the exquisite Land Rover Range Rover, which we doubt can hold a candle to Infiniti-grade durability.
Overall, we're giving the QX56 a rating of 8.4 out of 10, pending safety scores from the NHTSA and the IIHS. There's more to the story than numbers, though. And that's why you'll want to follow us over for a full review, specs, photos, and all our related news on TheCarConnection's 2011 Infiniti QX56 page.