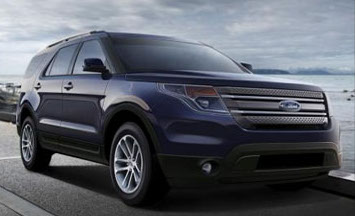 2011 Ford Explorer Leaked?
The 2011 Ford Explorer (or is that 2012?) is set to be unveiled sometime this summer, and an artist's rendering of the next Explorer hit the Web today.
The Explorer will switch from body-on-frame construction to uni-body construction, making it into a crossover SUV. Based on the rendering, it appears to be blending design elements of both the Ford Edge and Ford Flex. The rendering was originally created for Australian Web site CarAdvice.
Spy shots of the Explorer have already hit the Internet, and this rendering seems to confirm what we've already seen. Beyond that, we know that EcoBoost four-cylinder and six-cylinder engines will available. Other than that, there isn't much new information to take away from this, other than perhaps a better sense of how the Explorer will look.
Stay tuned for the late summer debut.
[Source: Motor Authority, CarAdvice]