It's that time of year again. Not summer or Father's Day or Potty Training Awareness Month: we're talking about the North Atlantic hurricane season, which officially kicks off today. According to the National Oceanic Atmospheric Administration, the next six months could be rough for folks along the Gulf and Atlantic Coasts. We're here to lighten your load, with half a dozen vehicles to help get you out of town should The Big One wander your way.
NOAA predicts that this is going to be a busy year for hurricanes, with an estimated 14 - 23 named storms in the Atlantic, up to seven of which could be major hurricanes. If the Pacific is any gauge to go by, NOAA might be right: there, where storm season began on May 15, Tropical Storm Agatha has already caused at least 115 deaths in its march across Central America.
If you've ever evacuated, you know it's long, tedious, nerve-wracking process: gathering important papers and medicine; gassing up your ride; packing kids, clothes, pets, and computers; timing your departure so that you don't get stuck in the worst of traffic; and of course, finding a place to sit out the weather. In the South, we try to cope with the experience by thinking of it as an impromptu vacation -- aka, a "hurrication" -- but it's hard to keep a light heart when you don't know if you're leaving home for two nights or two months.
Owning a vehicle with room to accommodate all the important, non-waterproof items in your life can make you sleep a bit easier, but don't just think that any SUV will do. Of the dozens on offer, some offer life-saving features that put them head-and-shoulders above the rest. And besides, some folks may not want or need an SUV; we have a couple of options for them, too. If you have additional suggestions, feel free to send us an email, or leave them in the comments below.
* * * * *
2010 Chrysler Town & Country
Enlarge Photo
For Panicky Parents: 2010 Chrysler Town & Country
Unless you leave in the middle of the night, days before a hurricane makes landfall, evacuation means sitting in traffic for a long, loooong time. Even if your safe house is just 100 miles up the road, it could take a full day to get there -- especially if you depart during the final 48 hours. If this is your first time to make the journey with kids, you might consider the Chrysler Town & Country. It's got plenty of gadgets and entertainment features to keep you and the kiddies occupied during the 12-hour drive from Mobile to Montgomery -- and the 18-hour drive back.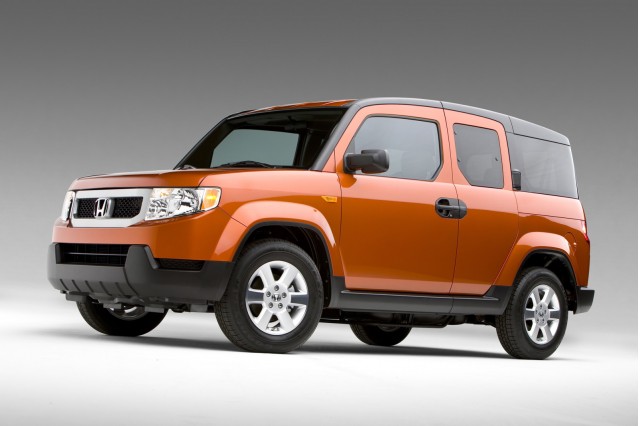 2010 Honda Element
Enlarge Photo
For the Animal-Lover: 2010 Honda Element
The Honda Element ranks as one of our all-time favorite rides. For starters, it's a Honda, meaning that it comes with the brand's legendary reliability. Plus, the Element's suicide doors and flip-up seating make it possible to load family, friends, and thousands of MREs (you know, just in case). But best of all, the Element's interior is water-resistant, which makes it perfect for pets. When you finally reach your parents' house or your in-laws' condo or that sketchy Motel 6 on the outskirts of Atlanta, you can pull the Element up to a car wash and hose that sucker down. Just be sure to remove all the MREs -- they don't always take kindly to water. Or digestive tracts.