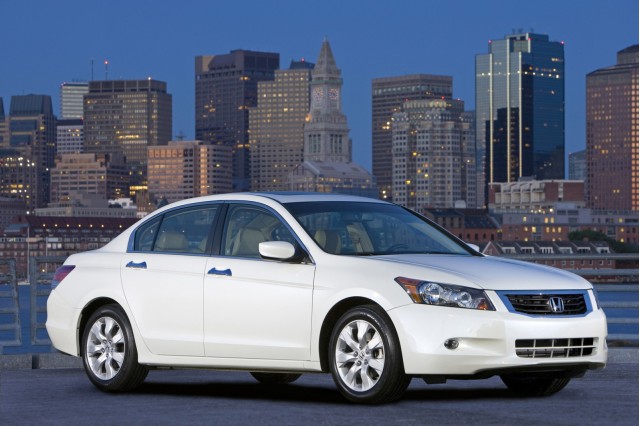 2010 Honda Accord Sedan
One of the most important things you can do when buying a new car is to test-drive it. But there's more to it when going around the block. Here's how to make sure the car is right for you when test driving:
Turn left and right: This is a good way to get a sense of the car's handling and balance, as well as steering feel.
Push it, if you can: We're not advocating scaring salespeople or driving recklessly. But if the test-drive route provides a few corners, you may want to push the car a little, to see how well it handles, if you feel comfortable. DO NOT OVERDRIVE YOUR LIMITS. You don't want to wreck the thing. We aren't talking race-car speeds here, we are just saying that being too conservative won't give you a sense of how well the car handles.
Find broken pavement: This is a good test of how well a car rides on less-than-perfect surfaces.
Find an expressway: If the dealer allows, take it on the highway. Here's a chance to test acceleration while merging, as well as highway ride, and wind/road noise.
Test in good weather: This gives the car a chance to perform optimally. Driving in the rain or the snow will severely limit your ability to check the car out. Of course, if you're concerned about how the car handles snow or rain, a second test-drive on a bad-weather day can't hurt.
Take it home: A lot of dealerships allow serious buyers to take a car home for a day or a weekend. If this is the case, do it. See how it handles your commute. See how it looks in your driveway. Spend the extra time playing with available features. An extended test-drive will teach you a lot.
Don't forgot practical concerns: Family cars are meant to be functional, and if a car handles wonderfully but has poor passenger and cargo space, it might not be right for you. Sit in the rear seat. Pop the trunk. Measure the console. After all, you're going to own this car for a while.
Finally, and above all else: DO EVERYTHING SAFELY. We hate to scream at readers in all-cap fonts, but we can't emphasize enough how important it is to drive safely, even when "pushing" a car. No race-track stuff. You are not Mario Andretti, and your insurance company will not be amused if you mess up. Test the handling at a reasonable and safe speed. Don't let a salesperson goad into driving faster and more aggressively than you are comfortable with. By all means, DO test the car, but DO NOT exceed your limits.