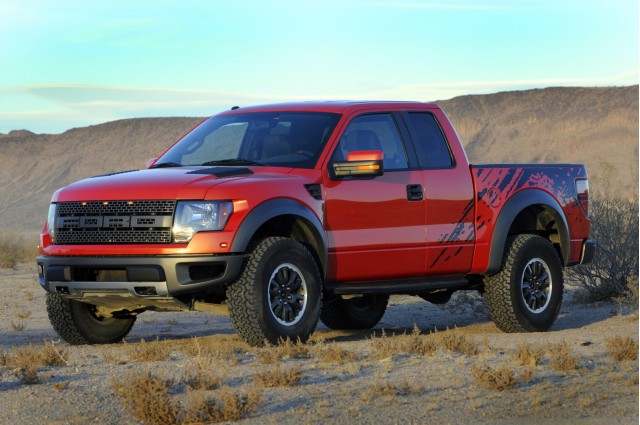 2010 Ford F-150 SVT Raptor
The SuperCrew version of the 2011 SVT Raptor was, for many, an inevitable arrival, and Ford confirmed today it will only be available with the 411-horsepower 6.2-liter V-8 engine. The same engine is also available in the standard Raptor (pictured), as is a 320-horsepower 5.4-liter Triton V-8.
SuperCrew variants will not have that choice, but the bigger engine is likely the only thing anyone looking for the raw offroad capability and menacing look of the SVT Raptor F-150 would choose anyway. The big iron-block V-8 is based on the same mill that powers the 2011 Super Duty line, with the wick turned up a bit for the more aggressive Raptor. It's expected to be paired with the same six-speed automatic that comes with the regular Raptor when equipped with the bigger engine.
Pricing and availability for the 2011 F-150 SVT Raptor SuperCrew hasn't been announced yet, so we'll have to wait and see how much of a premium Ford wants for the extra cab space and big-engine-only configuration. We'd expect it to be somewhere in the neighborhood of $45,000, however, as the Raptor SuperCab currently starts at $41,995.
For more details on the F-150 SVT Raptor, check out our previous coverage here.