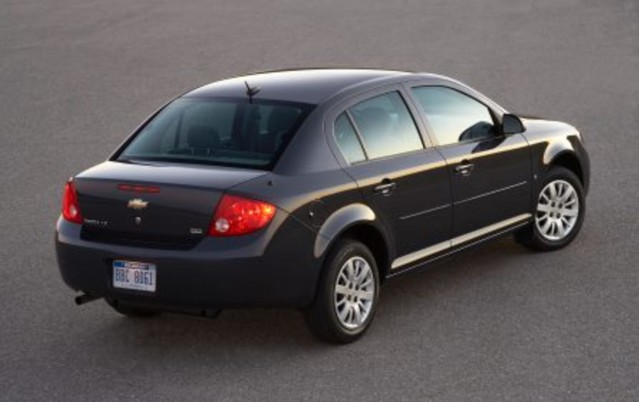 2010 Chevrolet Cobalt
2010 Ford Mustang
2010 Hyundai Sonata
As the 2010 model year starts to show hints of winding down and strong incentives continue to sweeten the deal, there are plenty of deep discounts to be had if you know where to look—and, especially, if you don't mind getting a model that's soon to be replaced.
With more details announced for the new 2011 Chevrolet Cruze—and first drives of the Cruze from several sources including TheCarConnection.com—the 2010 Chevrolet Cobalt that it replaces is being heavily discounted. According to the pricing intelligence firm TrueCar, which gathers its data from real transaction-price information, it's the most-discounted model this month, at about 25 percent off MSRP; that's more than $4,000 off the well-equipped 2010 Cobalt LT, for instance.
A number of the models with the strongest incentives during May are pickups. The Chevrolet Silverado 1500 was the most discounted, forecasted at about 19 percent below MSRP, while the equivalent GMC Sierra 1500 along with the 2010 Ford Super Duty F-250 was also heavily incentivized (in anticipation of the redesigned 2011 Ford Super Duty trucks that are due at dealerships about now.
Several convertibles—the Ford Mustang and BMW 3-Series—are also predicted to be strong deals in May. With the 2011 models soon anticipated (and much talked about), the 2010 Ford Mustang remained discounted at about 11 percent and was predicted to be the most-discounted convertible for May. The 2010 BMW 3-Series Convertible is also anticipated to sell nearly at final prices nearly $400 lower than last month.
The Mustang was also the 2010 model with the longest days in inventory, with 2010 'Stangs sitting for 113 days before sale, on average—another indicator that you'll be likely to find a good deal on those outgoing models. It was second only to the 2010 Hyundai Sonata, at 157 days in inventory. The 2010 Sonata has already been replaced by the all-new 2011 Hyundai Sonata, which offers much-improved refinement, comfort, and safety, plus a new direct-injection four-cylinder engine that places it at the front of the mid-size sedan pack with respect to fuel economy. The Mercedes-Benz GL350 BlueTec, Toyota Highlander, Toyota RAV4, and GMC Terrain were among the shortest in inventory—an indication that sales are strong.
Among new 2011 models, several models were already discounted by well over five percent, typically, thanks mainly to strong incentives. The 2011 Toyota Camry was predicted to sell at about nine percent below MSRP in May, followed by the 2011 Honda Pilot at eight percent below and the BMW 1-Series, Volvo C70, and Kia Sorento all at seven percent below sticker.
Although Ford continues to make gains in consumer perception, it was the most-discounted brand for 2010 models (followed by Chevrolet and Chrysler)—likely having more to do with a number of early introductions for the brand, however. Among 2011s, Toyota and Honda were most discounted on a brand basis, at eight percent across the board, followed closely by Kia and BMW.
2010 Lexus GX 460
TrueCar also noted that the effects of the recent recall of the 2010 Lexus GX 460 can be seen in its sale prices, which have run about $1,000 lower than in April with no change in incentives.
Here are TrueCar's most-discounted 2010 models for May, by body type:
Chevrolet Cobalt (sedan) – 25% below MSRP
Jeep Grand Cherokee (SUV) – 18%
Ford Focus – 15%
Chevrolet Silverado 1500 – 19%
Ford Mustang – 11%
Chrysler Town & Country – 11%
Hyundai Elantra Touring – 10%