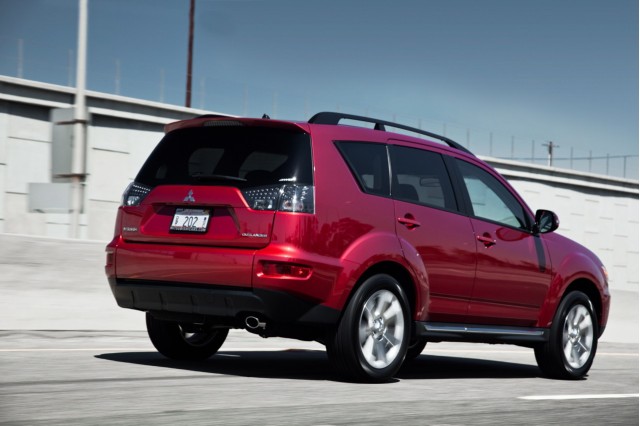 2010 Mitsubishi Outlander SE
Where the RAV4 shines is in straight line acceleration because the 3.5 liter V6 offers an ample 269 horsepower and 246 lb-feet of torque. Gas mileage is nearly identical to the Mitsubishi (19 city/26 highway) which is surprising given the RAV4 only has a five speed automatic. Sadly, the RAV4 lacks a bit of the laser sharp precision that you find in the steering of the Outlander but some driver's prefer that.
The interior of the RAV4 is a bit more adventurously styled and feels similarly well built when compared to the Outlander. The Mitsubishi may have more plastics that appear scratch prone but both models when tested felt solid and had plenty of cargo space for the needs of a small family (baby carriers, diaper bags, etcetera).
Now Which Should You Choose?
Well, given proper haggling the Outlander could no doubt be had for a very similar price to the V-6 Outlander. Although I would probably recommend the awesomely capable four cylinder versions of these cars to a friend I would personally rather have the Outlander thanks to its superior all-wheel drive, more aggressive styling and awesome stereo. But do keep in mind that next year Toyota is refreshing the RAV4 which will make this a whole new ball game.