2010 Toyota Highlander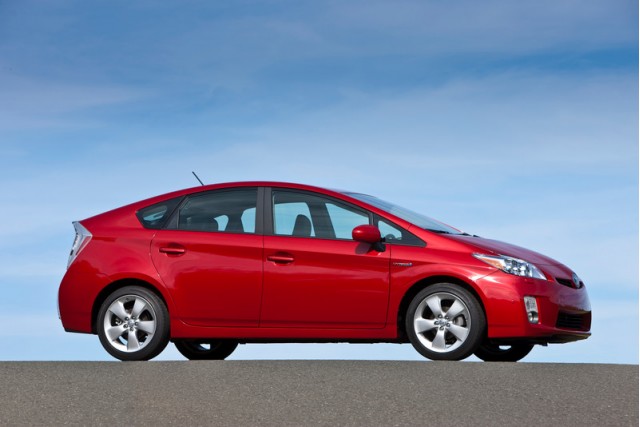 2010 Toyota Prius
Toyota (NYSE:TM) offered its
highest U.S. incentives ever
in March, but it's
stepped up the offerings
even further in April, with some expanded regional offers and two years of free maintenance now on offer to nearly all buyers.
According to the pricing intelligence firm TrueCar, Toyota will offer a total of $2,204 per vehicle during April. That's up another 5.3 percent versus March and up 49 percent from April 2009.
But new market predictions for April anticipate that Toyota sales will be down more than six percent versus in March. That of course comes on the heels of an especially strong rally for Toyota during March, when the automaker rolled out an aggressive March Sales Event that helped it recover from a reputation severely bruised by various recalls in recent months.
TrueCar predicts that Toyota's overall market share will drop only slightly in April, to 17.4 percent versus 17.5 percent in March. That would still leave it up tremendously from the 15.5-percent piece of the pie that it had in April 2009.
Toyota's incentive spending might sound generous, but it's still well below the industry average incentive of about $2,800 per vehicle. In April, automakers will altogether spend nearly $2.8 billion in incentives.
Altogether, Toyota will spend nearly $434 million in incentives in April, but General Motors, at $3,151 per vehicle, will approach the $500-million mark. Chrysler, with a much lower sales volume, will spend more than $300 million in incentives, working out to $3,537 per vehicle.
Nissan is still offering much more than the nearly $2,800 industry average incentive. For April, TrueCar is anticipating $3,101 per vehicle for the automaker.
But the strategy might be paying off for Toyota and Nissan. Along with Subaru and Ford, they're still the automakers expected to have the largest sales increases relative to last April.
Unadjusted, overall April sales in the U.S. are expected to be about 1.01 million units—down about five percent versus March 2010 but up 23 percent versus last year.
April's predictions correspond to a seasonally adjusted sales rate of 11.5 million vehicles, and the firm anticipated sales at the 12-million level in the summer months—evidence that the market and industry are, finally, in recovery mode.
[TrueCar]