2010 Chevrolet Cobalt
2010 Hyundai Sonata
2010 Jeep Grand Cherokee
2010 Jeep Commander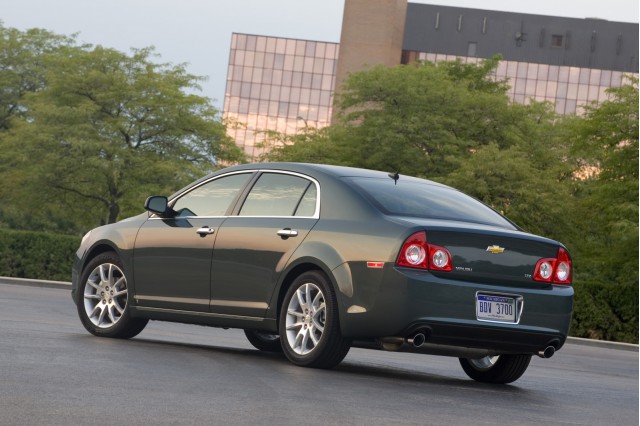 2010 Chevrolet Malibu
The most discounted 2010 models during March were the Chevrolet Cobalt, Hyundai Sonata, Jeep Grand Cherokee, Jeep Commander, and Chevrolet Malibu, according to sales transaction-based data from the pricing intelligence firm
TrueCar
, which provides very useful and money-saving market pricing tools here at TheCarConnection.com.
The 2010 Cobalt is selling at a full 20 percent off sticker—a savings, potentially, of well over $4,000 on a well-equipped Cobalt LT.  The Sonata and Grand Cherokee are both selling at 19 percent off sticker, on average.
All three models are due to be replaced with all-new models for 2011; the 2011 Hyundai Sonata is already on sale while the others—including the all-new 2011 Chevrolet Cruze—will arrive later this year. The Jeep Commander is due to be discontinued.
And as more details regarding the new and much more powerful 2011 Ford Mustang models were being announced, the 2010 Ford Mustang was selling at about 11 percent below sticker, making it the most discounted convertible according to TrueCar's data. With the new models soon to reach dealerships, you can bet the discounts will only get better.
Several luxury vehicles saw their transaction prices drop tremendously in the course of a month. From March 5 to April 9, the 2010 BMW 528i xDrive dropped nearly $1,500, on average, as did the 2010 Mercedes-Benz S-Class. The new 2011 5-Series will soon be reaching dealerships, while an all-new 2012 Mercedes S-Class is expected to exclusively feature hybrid powertrains.
Incentives from several luxury brands really picked up in March. For instance, BMW was offering up to $12,500 dealer cash on the 2010 BMW M6—that's more than the total cost of some of the least expensive U.S. models. $6,000 in dealer cash applied to the 2010 Infiniti M45, while $5,000 in incentives applied to both the 2010 Nissan Titan and Volvo XC70.
TrueCar found the 2010 Chrysler PT Cruiser, Hyundai Elantra, and Mazda Tribute to be the most price-flexible, with close runners-up being the Acura ZDX, Honda Insight, and Hyundai Elantra Touring.
Although Ford continues to improve its customer perception, on a brand-by-brand basis, Ford vehicles were the most discounted overall during March, selling an average of 14 percent below MSRP. Hyundai, Chrysler, Chevrolet, and Mercury all sold at 11 percent below sticker, on average.
Without further ado, here are TrueCar's most-discounted 2010-model vehicles by body type:
Chevrolet Cobalt (sedan) – 20 percent below MSRP
Jeep Grand Cherokee (SUV) – 19 percent
Ford Focus (coupe) – 17 percent
Ford Ranger (pickup) – 17 percent
Ford Mustang (convertible) – 11 percent
Hyundai Elantra Touring (wagon) – 10 percent
[TrueCar]