2010 Toyota RAV4
March sales might have gone in like a lamb for Toyota (NYSE:TM), but thanks to some strong incentives it went out like a lion, finishing the month with very good sales numbers—topping 186,000 nationwide—though the automaker's incentives went from less than $1,600 per vehicle in March of last year up to more than $2,300 this past month.
That's because of the automaker's March Sales Event. Toyota has attributed about 60 percent of its March sales to repeat customers, who received the additional incentive of free maintenance for two years.
Kia, Subaru, Volkswagen, and Ford (NYSE:F) all surged in sales versus last March, despite substantially lowered incentives. Kia, for instance, demonstrated that it's producing more desirable products by boosting sales by 23.5 percent while lowering its incentives by 43.3 percent versus a year ago, according to the pricing-intelligence firm TrueCar. Subaru was a very strong performer yet again, posting the biggest March-over-March gain of any automaker, with sales up by 46.6 percent from last March, while incentives were down by nearly 12 percent. Volkswagen saw sales up nearly 39 percent versus last March, with incentives 13.4 percent lower than last year.
"And of those four, Kia and Subaru were two of the three brands that had increased sales in 2009," said Jesse Toprak vice president for industry trends at TrueCar, citing particularly strong product lines for each of those automakers. Toprak says that while incentives might be able to create a sales bump for a few months, "that sustained level of success can only come through the product portfolio."
Over the past year, Kia has introduced the well-received Forte sedan and Forte Koup, along with the Sorento crossover, and this year the new 2011 Sportage compact crossover as well as the 2011 Kia Optima sedan will go on sale.  Subaru, meanwhile, has introduced all-new 2010 Subaru Legacy and Outback models and has shown a refreshed version of its performance-oriented Impreza WRX for 2011.
2011 Kia Sorento
Volkswagen and Ford have also have substantially refreshed product lines and have increased sales so far this year, versus last year. Ford in particular was a winner this past month; the automaker was third overall in sales, after General Motors and Toyota, and saw a nearly 43-percent jump in sales compared to last March with incentives actually about nine percent lower.
But that other brand that did well in 2009, Hyundai, also showed strong, with a 15-percent boost in sales and 34-percent lower incentives overall.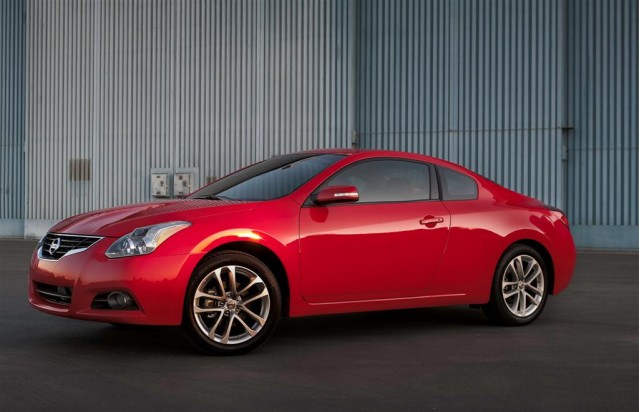 2010 Nissan Altima Coupe and Sedan
Nissan sales were surprisingly strong in March, up 43 percent from year-ago levels, with incentives only up about 12 percent, but it's not quite as it appears. "They had a horrible last March," said Toprak, who predicts that Nissan will be recovering at a better rate than the industry average for the rest of the year, because of the company's "sports-oriented mass-market" car line, which sits well with consumers who want something a little bit more premium than bargain-basement but not lavish either. Likewise, Toprak predicts that VW will continue to do well this year, because of its refreshed product line but also because they have the lowest price point of any European automaker.
Industrywide, sales were up 24.4 percent in March, versus last March, although incentives rose by less than ten percent. Overall, incentives averaged $2,800 per vehicle this past month, down from $3,103 in March of last year, but sales overall sales haven't risen appreciably yet and the U.S. still scraps more vehicles than it purchases new.
Automakers that didn't do very well included the two Swedish automakers Volvo and Saab. Volvo is offering much more than double the incentive money it was a year ago ($6,189 per vehicle this March, $2,913 last March, on average). Both automakers were just recently sold to new buyers—Volvo to China's Geely, and Saab to the Netherlands-based sports-car maker Spyker.
Suzuki's sales were among the most disappointing—down nearly 72 percent (the largest drop of any automaker) in March, versus last March, despite having the new 2010 Suzuki Kizashi out, as well as a broadened 2010 Suzuki SX4 lineup.
As for Toyota, it appears a little too early to say for sure yet whether the incentives erased all their image issues. "The incentives worked even better than we thought," said Toprak. "Now what is going to happen in April?"
Indeed, the real test of whether or not the entire U.S. auto industry has really begun a slow and painful recovery will also come next month. Sales are typically down four to five percent from March to April, but if April levels can meet those of March, it's about the best indicator we have that we've weathered the worst of the storm.
[TrueCar]