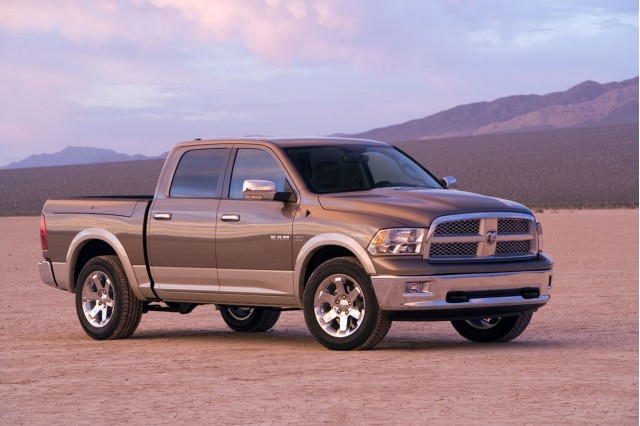 2010 Dodge Ram 1500
NEW YORK--Chrysler isn't showing any new product at the New York Auto Show, but that doesn't mean that they don't have a presence as the Jacob Javits Convention Center on the city's West Side. I spent a few minutes chatting with Fred Diaz, the president and CEO of the Ram brand--remember Ram is now separate from Dodge--who also serves as the head of national sales for the brand. We chatted about the vision of the Ram brand, the current state of the pickup truck market, and future product, although Diaz kept mostly mum on that last subject.
Truck enthusiasts will be most interested in what product news Diaz could talk about: There is a new Chassis Cab Ram coming in June, and as a result of Chrysler's alliance with Fiat, the company will be bringing some of Fiat's commercial vehicles to the American market.
When pressed about future plans for the next generation of Ram trucks, Diaz kept mum, saying only that Ram plans a "major product action" for 2012. He stopped short of calling it a major redesign, but he implied that the truck will receive new styling and perhaps some new powertrain options.
I also asked him about any plans for a high-performance Ram, but all he'd say was: "It's some cool stuff we're looking at doing."
Diaz also reiterated Chrysler's earlier statements about the canceled Ram hybrid, which was dropped due to the lack of a business case. He noted that truck buyers aren't necessarily willing to sacrifice capability for fuel economy. A hybrid Ram, he said, "just did not resonate well in the market place."
That doesn't mean Chrysler won't look at other options for "greener" trucks.
"We continue to look at diesel opportunities," Diaz said, before also noting that Ram has teamed up with the federal government on a fleet of 140 plug-in hybrid Rams. "We're exploring things," he said, referring to the fleet as a research program.
Many people either don't know or don't care that Ram is no longer part of Dodge, and other folks may have forgotten. Still others--particularly certain Ram owners--would prefer to continue to associate their trucks with the Dodge name.
"Some people have made too much of the fact that Dodge and Ram separated," Diaz said. He said that there will always be some form of Dodge branding on the trucks, and that he understands the desire of Ram owners to associate with Dodge.
Pickup trucks aren't the hottest segment in the industry right now, due to rising fuel prices and a shrinking economy, but Diaz says he's already seen signs of a turnaround.
"The truck market has contracted some," Diaz conceded, but "we're starting to see a rise and uptick in housing starts." That rise could mean good things for the market, as trucks play such a huge role in construction and contracting businesses.
For Diaz, that means there is reason for optimism.
"I think it's starting to get back to normal," Diaz said.