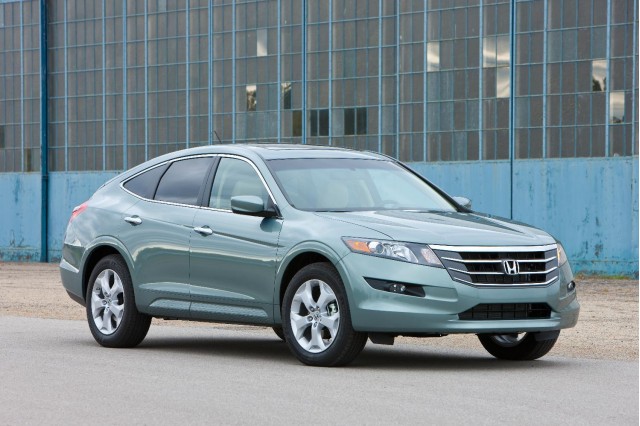 2010 Honda Accord Crosstour EX-L
2010 Honda Fit Sport
Honda has announced its biggest set of lease deals ever, which market experts are identifying as an effort to stoke sales and save its market share against the aggressive incentives now being offered by archrival Toyota.
The so-called Feature Special Lease program that runs through May 3 allows a low monthly lease payment on nearly every model—ranging from $159 on a 2010 Honda Civic Sedan VP to $390 on a 2010 Honda Accord Crosstour—along with no money down, no security deposit, and no first-month payment, with $0 due at signing. The deals aren't limited to slow-selling or lower-demand models, and they're even offered on the popular (and recommended) 2010 Honda Fit.
Honda additionally has several other lease options as well as low 0.9-, 1.9-, or 2.9-percent APR financing, for up to 60 months. Visit this page for details on each individual offer, along with special regional offers, and keep in mind that these are typically only offered to those with very good credit.
Earlier this month we cited TrueCar sales forecasts for March, predicting that Toyota's incentives have actually put a significant dent in Honda's market share this month. Over the entire month, Honda's market share dropped by nearly one percent, to 9.4 percent, again according to TrueCar.
The Toyota March Sales Program began in early March and runs through April 5, offering zero-percent or special lease rates on a wide range of models, including the 2010 Toyota Corolla, Camry, Venza, Avalon, Matrix, Tundra, and Prius. The Toyota deal also includes two years of free maintenance to those who are current owners of a Lexus, Scion, or Toyota model.
What's particularly odd about this incentive-war situation, the L.A. Times points out, also citing a Kelley Blue Book expert, is that these two Japanese automakers have historically resisted these types of large incentives. And Toyota has never started a price war before. But here they seem to be developing a dependency on incentives, offering more than many other automakers, to maintain market share.
KBB estimated that this week 45 percent of new-car shoppers are considering a Toyota model, up from 32 percent last week. Meanwhile seven percent of those who had said they weren't considering a Toyota before the incentives began now do have one of the automaker's models on their shopping list.
Sales this month are expected to rise for both Honda and Toyota, with Toyota's sales seeing a slightly more significant bump. We'll update you when March sales figures roll in next week—and we'll see next month if Honda manages to fight back.
[L.A. Times; Bloomberg via Business Week]