2010 Hyundai Sonata
2010 Jeep Grand Cherokee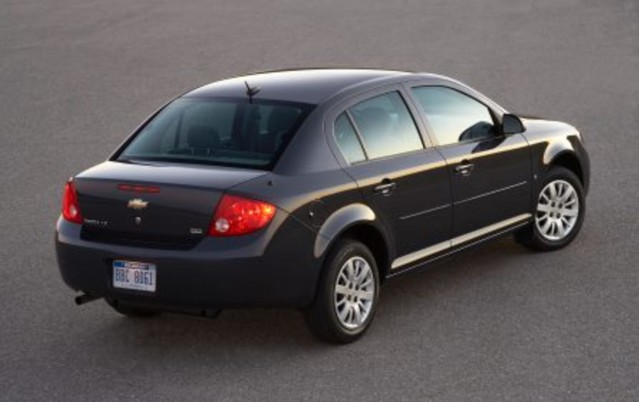 2010 Chevrolet Cobalt
Ford and Hyundai have both been making tremendous progress in recent years in building their reputation with American consumers—and upping quality, reliability, and desirability.
So it's a little surprising that these two automakers currently have the most-discounted vehicle lines, according to the latest data from the pricing-intelligence firm TrueCar.
Ford vehicles were on average discounted 13 percent during February, while Hyundais sold at about 12 percent below MSRP. Chrysler, Mercury, and Jeep rounded out the top five, each selling for 10 percent or more, on average, below sticker.
TrueCar's data included more than 300,000 vehicles sold nationally in February alone, and the firm's sales transaction data now accounts for more than 43 percent of all U.S. vehicles sold.
Four of the five models with the deepest discounts in February were due to be replaced or discontinued for 2011. The 2010 Hyundai Sonata is already dated with the arrival of the all-new 2011 Sonata at dealerships; the 2011 Grand Cherokee will be completely redesigned, with the related Jeep Commander discontinued; and days are numbered for the 2010 Chevrolet Cobalt as the new 2011 Chevrolet Cruze arrives this fall.
All four of those 2010 vehicles, plus the Ford Ranger, are discounted an average, nationally, of more than 15 percent.
And while there's plenty of media buzz about the 2010 Ford Transit Connect, they're backing up on dealer lots, surprisingly. According to TrueCar, they're in dealer inventory about 80 days on average—not the short supply that Ford was reporting months ago. Other surprises include the well-received 2010 Kia Forte, which was up to 94 days in inventory (only surpassed by the now-replaced 2010 Hyundai Sonata). Because of this, we're suspecting that dealerships might be willing to deal a little more on both of these new (and still quite hot) vehicles in the very near future.
The 2010 Ford Mustang—soon to be replaced by the new 2011 Ford Mustang, including an upgraded powertrain lineup—was third-longest, and the 2010 Ford Focus was also one of the longest in inventory.
2010 Ford Ranger
Based on final transaction prices, and including any factory or dealer incentives, here are the most deeply discounted 2010-model-year vehicles by body type:
--
Jeep Grand Cherokee (SUV) – 18%
Hyundai Sonata (sedan) – 18%
Ford Ranger (pickup) – 17%
Chevrolet Cobalt (coupe) – 18%
Toyota Sienna (minivan) – 12%
Volvo XC70 (wagon) – 11%
Volvo C70 (convertible) – 11%
[TrueCar]