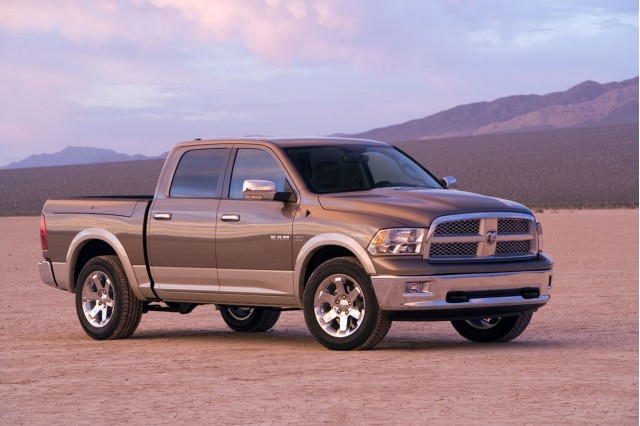 2010 Dodge Ram 1500
A diesel powertrain had been planned for light-duty Rams before Chrysler went into bankruptcy last year, and now it appears the idea may be rekindled.
No formal agreement has been made between Chrysler and Cummins--who supplies the diesels in heavy-duty Rams--for a diesel for light-duty trucks, but a Chrysler spokesperson told Pickuptrucks.com that there are discussions with Cummins, and a light-duty diesel is planned.
Details aren't known about the engine, but Pickuptrucks.com says it's rumored to be a 5.0-liter mill. That same Chrysler spokesperson--Jim Veltri--also told Pickuptrucks.com that a light-duty diesel engine could go into heavy-duty trucks. That might be appealing to heavy-duty buyers who want more fuel economy than they can get from the larger 6.7-liter diesel engine that is currently available.
If a light-duty diesel engine is produced for the Ram 1500, it would be the only light-duty diesel available in the class, as GM, Ford, and Toyota don't currently offer diesel choices. That could give Chrysler an advantage in the market when it comes to fuel-economy and towing.
It also could help Chrysler deal with upcoming tightening fuel-economy regulations, since diesel engines tend to get more miles per gallon than gasoline engines.
Diesel is an often over-looked alternative fuel in the American market, mainly because it can be harder to find than gas and it is subject to stricter emissions regulations. But the power capabilities of diesel and the extra mpg boost can make it a strong choice for trucks. We've seen how hybrid powertrains have boosted fuel-economy in light-duty full-size trucks. Now, maybe it's diesel's turn.
[Source: Pickuptrucks.com]