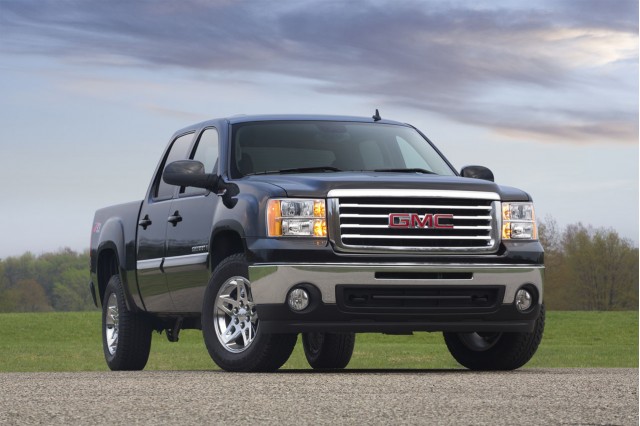 2010 GMC Sierra 1500
Our automotive experts at our parent site, The Car Connection, took a peek at the 2010 GMC Sierra 1500, and here's what they had to say.
Executive Editor Marty Padgett had this to say about the truck's styling:  "The GMC Sierra 1500 was completely redesigned in 2007, alongside the nearly identical Chevrolet Silverado, and because of its conservative but tasteful style, it still looks fresh today. It's a little plain, though-more assertive than the Chevy truck but not as arrogantly square as the Ford F-150, nor as butch and bold as the Dodge Ram."
Padgett then added this about the truck's road manners: "The Sierra's powertrains perform well, but the truck shines in combining competitive towing and hauling numbers with uncharacteristically sharp steering and handling. The Sierra is one of the easiest full-size pickups to drive, with more communicative steering than other full-size pickups."
Sierra is available with a hybrid powertrain, and there are some differences between it and other versions. Padgett again: "All the performance characteristics change in the GMC Sierra Hybrid except handling," and "The complex package creates 332 horsepower and 367 pound-feet of torque, which ends up feeling a lot like the Sierra's stock 5.3-liter V-8 engine, except for an eerily smooth and quiet acceleration on battery power alone, up to about 25 mph."
Overall, our experts liked the truck's steering and handling, and its variety of powertains. Demerits were handed out for the truck's plain looks.
The final thought from Padgett?: "The 2010 GMC Sierra covers all the bases, even the green ones."
[Source: The Car Connection]