Akio Toyoda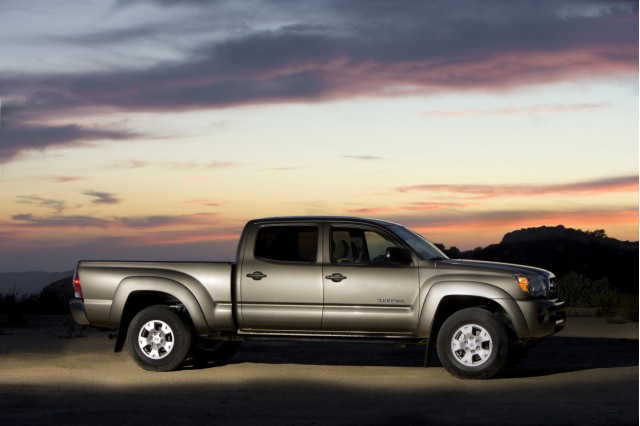 2010 Toyota Tacoma
Toyota's response to the current recall fiasco has been a little slow -- and that's being generous. As new details emerge from memos and other documentation, it's clear that Toyota officials have spent much of the past few years hiding their heads in the sand, hoping this would all go away. Now the company is trying to mend its image by making it easier for communication to move throughout the company and from customer to manager. Unfortunately, Toyota's president seems intent on sabotaging those efforts by avoiding the U.S. Congress.
First, Toyota announced a "Special Committee for Global Quality", which "aims to review quality control throughout all of our work processes from design to sales, and then to improve and set the direction for the future." The central elements of this committee are "chief quality officers", stationed at Toyota's key manufacturing sites around the globe so that they can quickly respond to quality concerns, like those that recently emerged around the 2010 Toyota Tacoma. Likewise, new "chief safety officers" will become more integrally involved in Toyota's recall decision-making process.
On the customer-relations front, Toyota is setting up communications procedures so that complaints (and presumably compliments, too) get properly reported and sent up the organizational chart. Those customer comments will now go directly to Toyota's Quality Group and its Product Development Group. The company is also working to become somewhat more transparent to non-owners, through events like last week's Digg Dialogg live interview with Toyota Motor Sales USA President Jim Lentz, which drew a whopping 870,000 over the course of its initial broadcast and the subsequent 48 hours. And then there's this TV commercial, in which the company takes the rare (but not unheard of) step of using a paid advertisement to admit it has made a mistake:
So given all these efforts to improve communication, given these attempts to make Toyota seem more transparent and open, why is Toyota's President, Akio Toyoda, dodging calls to appear before the U.S. Congress at a hearing on February 24? We don't know. All we know is that Toyoda has said, "I trust that our officials in the U.S. will amply answer the questions," and that in his place, Toyoda is sending Yoshi Inaba, president of Toyota Motor North America.
To be fair, Mr. Inaba will probably answer the legislators' questions just fine. And also to be fair, the loudest call for Toyoda's appearance on Capitol Hill comes from Congressman Darrell Issa (R-California), whose state is losing jobs and revenue thanks to Toyota's (and GM's) abandonment of the NUMMI plant in Fremont; in other words, Toyoda may sense that a certain legislator has an axe to grind and that he won't get a fair hearing. But someone from Toyota's marketing team should perhaps remind Mr. Toyoda that in the world of PR, avoiding the cameras never makes for a good picture.
[Toyota, InsideLine, YouTube]