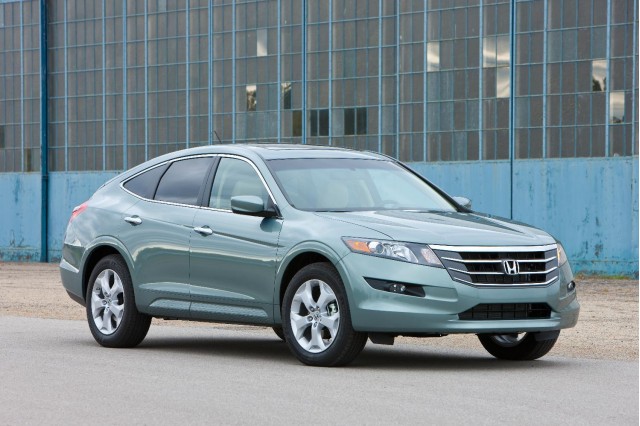 2010 Honda Accord Crosstour EX-L
When Honda unveiled the 2010 Accord Crosstour, it did so on Facebook. The results were disastrous. Images of a bloated, unwieldy-looking crossover sent mobs of Honda fans running for the torches, pitchforks, and comment boxes. The following day, Honda's higher-ups posted a lengthy response to the criticisms, insisting that the photos didn't provide enough detail, and that once people saw the Crosstour in person, they'd be completely won over. But of course, the damage had already been done.
Honda is hoping to recover from that PR fiasco this weekend with a commercial that's scheduled to run during the final quarter of the Superbowl. Sensing that the Crosstour isn't the most photogenic vehicle in Honda's lineup, the company's ad agency, RPA, fritters away most of the 30-second spot by focusing on a squirrel. We're not kidding:
For the record, our own reviewer, John Voelcker, admits that "the Honda Accord Crosstour looks better on the street, from eye level, than in automotive photography taken from knee height". Which raises the question: can Honda build ad campaigns (and sales) around a model by hiding it? We don't know, but we're anxious to find out.
For anyone who's interested, we've pasted Honda's full press release below. We can spot at least one split-infinitive and a whole lot of spin.
* * * **
Honda's Super Bowl Ad to Tout All-New Accord Crosstour
Honda's Integrated National Ad Campaign Includes TV, Print, Interactive and Outdoor
02/03/2010 - Santa Monica, Calif. -- As one of the most-watched TV programs of the year, the Super Bowl is the ideal environment to prominently draw attention to Honda's all-new Accord Crosstour. Airing during the fourth quarter, the 30-second spot features an animated squirrel with an insatiable appetite for "squirreling away" all things cargo, set to the tune of "Funky Stuff" by Kool & The Gang. "Squirrel" is part of an integrated, multiplatform advertising campaign developed by Honda's long-standing agency of record, RPA, to support the vehicle launch.
"Our newest Accord Crosstour spot, 'Squirrel,' is intended to leverage media's largest stage to announce Honda's newest entry into the world of next-generation, sporty, crossover vehicles," said Tom Peyton, senior manager, national advertising, American Honda Motor Co., Inc.
Reaching beyond the Super Bowl game, Honda's "Squirrel" spot will be featured on the following Web sites:
MSN home-page takeover on Sat., Feb.6–Sun., Feb. 7
Fox Sports home-page roadblock on Sun., Feb. 7
YouTube masthead on Mon., Feb. 8
The series of Accord Crosstour spots ("Instruments," "Box," "Snow Trip," "Squirrel"), produced by Elastic, rely on atypical, pronounced polygonal animation and rhythmic music to showcase the all-new Honda Accord Crosstour, an alternative to the SUV/CUV category.
"The style of the work really comes back to the Crosstour itself. It's a modern solution. It gives you a lot of storage, but it doesn't look or drive like other things out there. We wanted the visual style of the advertising to reflect this. So right away, you know that something new is going on here," said Pat Mendelson, SVP, creative director at RPA.
Spots air during high-profile, high-engagement network prime, sports and cable programming, including the championship game of the Bowl Championship Series on ABC, Super Bowl XLIV on CBS and the 2010 Winter Olympics on NBC.
On Jan. 1, branded entertainment in the form of custom-produced vignettes kicked off with a 90-second vignette during the 2010 Bridgestone NHL Winter Classic on NBC. The vignettes continue through January and co-promote the all-new Accord Crosstour and the return of NBC's Chuck. The story line of the vignettes began at the Winter Classic and follows a journey toward the Winter Olympics.
To leverage the target's heavy print readership, Accord Crosstour print appears in magazines across various categories, including the Sports IllustratedMen's Health, Time, Forbes and The Economist. In-theater begins in February and outdoor will be featured in more than 20 key markets during the spring. Swimsuit Edition,
Extending awareness of the Accord Crosstour online, unique placements included sponsored content that ran across various technology Web sites coinciding with the Consumer Electronics Show.
Consumers can connect with the all-new Accord Crosstour at the following high-impact events, targeting upscale suburbanites: Ribfest Chicago 2010, Safeway National Capitol BBQ in Washington, D.C., and the 36th Annual Sun 'n Fun Fly-In in Lakeland, Florida.
About Honda Crosstour
The Accord Crosstour combines the sophisticated refinement of a premium sedan with versatile characteristics of an SUV to create an entirely distinct concept within the Crossover Utility Vehicle (CUV) segment. Leveraging the many benefits of a car-based platform, the Accord Crosstour starts with the top-level refinement of the Accord V-6 Sedan and further expands utility with a sleek-yet-functional profile for increased cargo space.
About RPA
RPA, headquartered in Santa Monica, Calif., is a leading independent advertising agency, with more than $1 billion in billings. RPA builds momentum for brands by offering its clients truly integrated campaigns that resonate throughout its disciplines, which include traditional advertising, interactive, and direct and event marketing. RPA's client list includes American Honda, both the Honda and Acura brands, California Department of Public Health, La-Z-Boy, Mandalay Bay Resort and Casino and PENTAX Imaging Company, and it is the media planning and buying agency for Metro-Goldwyn-Mayer, Lenox Financial Mortgage and Reily Foods. For more information, visit http://www.rpa.com.
[Honda]
2010 Honda Crosstour