The Insurance Institute for Highway Safety (IIHS) has rated five small and mid-size pickups and found that roof-crush protection isn't so good overall.
The only truck of the five tested to earn the top rating of 'good'—just barely—was the 2010 Nissan Frontier (also sold, structurally similar, as the 2010 Suzuki Equator).
In order to earn that 'good' rating, the roof must be more than twice as strong as the current federal minimum. Safety advocates have long argued that the current minimum doesn't adequately protect occupants, especially in rollovers; finally in April 2009 the federal government rolled out a new standard—not in full effect until 2016—that effectively doubles the standard for vehicles under 6,000 pounds and introduces new standards for heavier ones. Most of these small pickups are built on aged designs, and most of them will likely be completely redesigned by then.
Good roof-crush test results are especially important for small pickups as they have a higher chance of rollover than most cars, crossovers, and even SUVs. According to the IIHS, nearly 10,000 people are killed annually in accidents that involve rollover, and roofs that collapse can not only lead to more injuries but also to a greater chance of ejection from the vehicle when occupants aren't properly belted in. Nearly half of all fatalities in pickup crashes were in trucks that rolled over.
Electronic stability control has in recent years helped reduce the chances of rollover, especially in single-vehicle incidents, and side airbags have helped protect those who do roll.
In the roof-crush test, a metal plate is pushed against one corner of the roof at constant speed. IIHS ratings correspond to the level of deformation corresponding to a particular force. For instance, a 'good' rating requires that the roof must withstand four times the vehicle weight before crushing five inches.
2010 Ford Ranger
Angular Front Exterior View - 2010 Dodge Dakota 2WD Crew Cab ST
2010 Chevrolet Colorado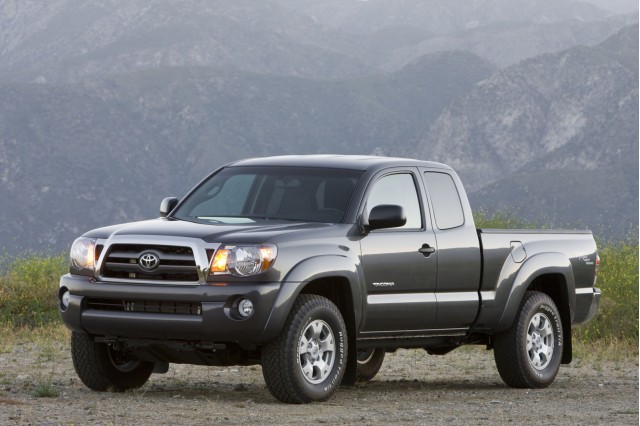 2010 Toyota Tacoma
For this latest batch of trucks, the Nissan Frontier withstood more than four times its weight before reaching five inches of crush, while the 2010 Ford Ranger, 2010 Dodge Dakota, and 2010 Toyota Tacoma each took a bit more than three times their respective weights. The 2010 Chevrolet Colorado (and likely its near-twin, the 2010 GMC Canyon) was in last place, with just 2.86 times its weight.
The 2010 Dodge Dakota also fared poorly in a side test, in which its curtain side airbags failed to deploy. The IIHS notes that side airbags remain optional—not standard—on the 2010 Dodge Dakota, and it's one of few passenger vehicles to not include the feature on every spec.
Institute senior vice president David Zuby assesses that the 2010 Nissan Frontier is "really good for front side and rollover crash protection." He continues to say, "If Nissan were to upgrade the seat design, Frontier could be a Top Safety Pick." Currently the Frontier achieves an 'acceptable' score in the IIHS's seat-based rear impact test.
"As a group, small pickups aren't performing as well as small cars or small SUVs in all of the Institute's safety tests. None of the ones we tested is a top-notch performer across the board. In fact, no small pickup earns our Top Safety Pick award," said Zuby, in a release accompanying the results.
[IIHS]