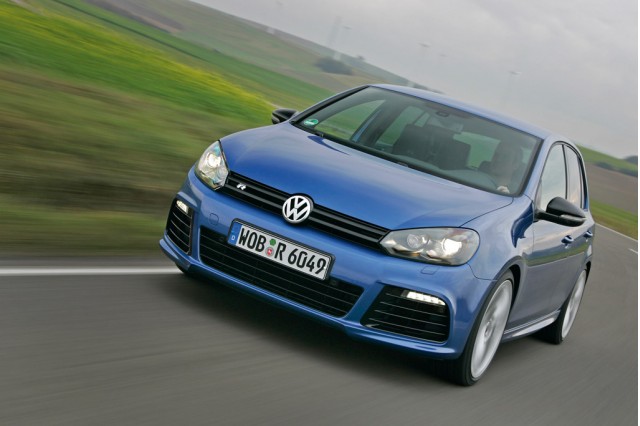 2011 Volkswagen Golf R
• What is it? Volkswagen's replacement for the sporty Golf R32
• The basics: 2.0-liter TSI turbo and all-wheel drive
• On sale: First half of the year
• Price: $34,000 (est.)
Many in the U.S. are still lamenting Volkswagen's decision not to bring the sporty Scirocco coupe and its high-performance Scirocco R variant across the Atlantic for local sale but as some solace the automaker will be bringing over its new 2011 Golf R, most likely in the first half of the year.The Golf R was in fact first revealed last year in Frankfurt and now we have new images and details following the car's driving launch, which took place in Ellmau, Austria over the weekend.
2011 Volkswagen Golf R
The aggressively-styled hot hatch is the replacement for the V-6 powered R32 but it makes do with a 2.0-liter TSI turbocharged four-cylinder mill. The new engine is rated at 265 horsepower--the most powerful production Golf ever. Combined with a sophisticated all-wheel drive system and either a manual or DSG dual-clutch gearbox, the Golf R should give cars like the Audi S3 and even the BMW 135i a run for their money.
The Golf R is capable of propelling to 62 mph from rest in 5.5 seconds when equipped with the optional DSG dual-clutch gearbox (the standard manual gets it done 0.2 seconds slower). Top speed is electronically limited to 155 mph.Average fuel consumption is about 21% better than the R32, up to 27.7 mpg combined according to Volkswagen--not bad considering the hatch tips the scales at more than 3,353 pounds for manual models and almost 3,400 pounds for DSG-equipped cars.
2010 Volkswagen Golf R
Matching the engine's performance is a powerful braking system. In fact, a 17-inch brake system is used and all brakes have internally ventilated discs and R-specific calipers that are painted a high-gloss black with R-logo. These are housed within a set of 18 inch wheels as standard or an optional set of 19 inch units.
Also available as an option is DCC dynamic chassis control whose character was fully tuned to the Golf R. This system continually adapts suspension damping to the roadway and driving situation. In addition to the standard "Normal" mode, the driver can manually activate a "Sport" or "Comfort" mode.
2011 Volkswagen Golf R
In addition to the wheels, a full bodykit and an aggressive hood scoop help distinguish the Golf R from your run of the mill Golf models. Also featured are bi-xenon headlights, centrally mounted exhaust pipes, and a large roof spoiler.
Inside, there are heated and leather trimmed bucket seats (race car-inspired shell seats are an option), a multi-function three-spoke leather steering wheel, aluminum door sills and stainless steel pedals, plus plenty of Golf R logos littered across the cabin.
[Volkswagen]