2011 Chevrolet Cruze
2011 Chevrolet Cruze
2011 Chevrolet Cruze
Within two years, GM's Chevrolet brand will have a family of four small cars for the U.S. market: Spark, Aveo, Cruze, and Volt.
The new lineup starts with the introduction of the 2011 Chevrolet Cruze, which as we showed you in this preview earlier in the week and this interior comparison with the 2012 Ford Focus. The Cruze promises to be a little bit more mature and sophisticated than the 2010 Chevrolet Cobalt it replaces; and in moving upscale, it leaves space for a sportier, more substantial Chevrolet Aveo.
While market forecasts and analysts are predicting quite different figures for small-car demand—particularly for B-segment cars like the Ford Fiesta and Chevrolet Aveo—over the next several years, Chevrolet small cars marketing director Margaret Brooks said that the business plan has been made for Aveo and Cobalt using current demand; Brooks says that in 2009 nearly 20 percent of all vehicles were C-segment and below, while in 2003 it was more like 14 percent.
"We think that we're going to start seeing some industry growth, and that's going to put pressure on fuel prices again…so we think that's going to encourage consumers to continue buying small cars," said Brooks. "We're seeing really a resurgence of small cars throughout the industry."
Aveo to be made in the U.S.A.—and still called Aveo
As evidence of the commitment to the Aveo and Cobalt, GM will be building both in the U.S. The next-gen Aveo will be made at the Lake Orion, Michigan plant that formerly build the G6, and the 2011 Chevrolet Cruze will be built at the same Lordstown, Ohio plant that's been assembling the Cobalt.


2010 Chevrolet Aveo RS concept
2011 Chevrolet Aveo (RS Concept, 2010 Detroit Auto Show)
Surprisingly, GM looks on track to keep the Aveo name, which isn't exactly thought of positively to most car shoppers in the know. The current 2010 Chevrolet Aveo has been a cut-rate special with rental fleets, ratings for safety have been lackluster, and most reviewers—including those at TheCarConnection.com—have rated it near the back of the pack. "We really haven't said anything specific about the name, but I think you can infer that as an Aveo RS," said Brooks, hinting that the Aveo name is here to stay. "It's a global name today, and we felt that it was the right name for this show car…because it really does speak to the Chevy small car around the world, today, which is an Aveo in every market."
Brooks mentions the Malibu as a model for which Chevy brought back the equity of the nameplate. "You really can change the way consumers think about a nameplate by attributing the right product to it. The Buick LaCrosse is another example of how, with the right product, it really takes on a whole new meaning."
As for the Spark, GM is playing wait-and-see, but it's definitely ready for more demand. "To date that's a pretty small market," said Brooks. "But we think that as gas prices increase, they'll want a vehicle that's small, nimble, and they're looking for the very, very best fuel economy they can get." Brooks added that they're hoping Spark's interior space and style "will bring people to the segment."


2011 Chevrolet Cruze and pre-production 2011 Chevrolet Volt
2010 camaro official reveal motorauthority 020
2010 Chevrolet Corvette Grand Sport
A little bit of Volt in every Chevy
How do you sell a $15,000 Spark geared for no-frills transportation, and a $40,000 Volt that's looking to be something of an iconic luxury good, at the same dealership? Brooks doesn't see any issue. "Chevrolet has always sold to a broad range of customers," said Brooks. "Corvette has always been the epitome of the American sports car, and we've always been able to sell Camaro or Corvette at the same time as we could sell full-size trucks and small cars in our lineup." And the dealership body is used to it, she added.
"And so when I think about these eco-friendly vehicles…just as there's a little bit of Corvette in every Chevy we build, there's going to be a little bit of Volt in every Chevy we build, particularly those which are intended for eco customers."
But while they'll be in the same showroom, the messaging will definitely be different. "Whether it's Volt or Cruze or Aveo, it will have a very tightly defined target customer and competitive set, and for each one…we'll message it exactly that way," said Brooks. For instance, with the Cruze, she explains, Chevrolet thinks that it has the opportunity to "change the rules for compact cars," because it has the roominess and upscale amenities of a mid-size car with the fuel economy and price of a compact. "Cruze is a very serious and sophisticated small car," said Brooks. "And how we message the Chevy Aveo RS, the show car for example, is that it's a Euro-inspired hot hatch."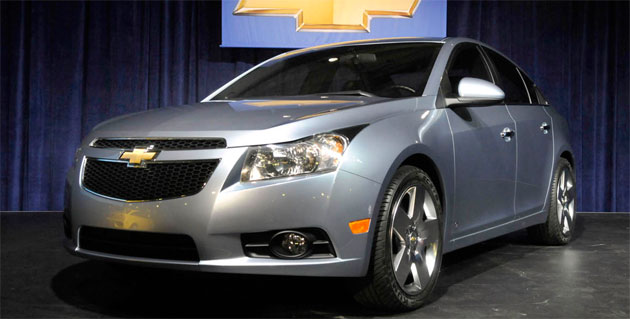 The new hatch will be based on the Cruze but get unique styling and suspension and steering adjustments
American Revolution? Like a Rock? The Heartbeat of America?
Chevrolet is on the cusp of an all-new, all-encompassing advertising campaign that will tie together the entire lineup. So what would some of the themes be? Style and roominess are a couple, says Brooks. "You'll see a completely new advertising approach," she said, to debut with Cruze and kick off with a family-vehicle campaign during the Olympics.