2010 Mazda MazdaSPEED3
2010 Mazda MazdaSPEED3
2010 Mazda MazdaSPEED3
2010 Mazda MazdaSPEED3
Back over the summer when TheCarConnection.com first drove the 2010 MazdaSpeed3, around California's Monterey Peninsula, we declared it "a joy to drive, even when the surfaces are far less than ideal."
But that was in warm summer weather, both on lightly trafficked canyon roads and on Mazda's own Laguna Seca racetrack.
Even though we were eager for a second drive of the Speed3, in real, daily-driving conditions rather than on Mazda's hand-picked surfaces, we hadn't anticipated such an extreme test. As our week arrived we were faced with some of the coldest days of the year in the Pacific Northwest, when steady drizzle was turning into sheet ice overnight and leaving roads constantly damp. This editor had more than a little trepidation over whether the high-powered, front-wheel-drive MazdaSpeed3 and its summer performance Michelin SP Sport rubber, in 25-degree weather, would be up to the task in keeping up with the WRXs that are so common.
You see, when driving the MazdaSpeed3, even on those summer backroads, we had noted more than a little torque steer and unpredictability out of tight corners when really goosing the throttle pedal and the pavement was anything short of perfect. And that's considering that a torque management system already puts a cap on torque in first through third gears, on this hot hatch, and Mazda even went to far as to tell us that it intentionally didn't reel in the Speed3's ragged edges as much as it could have—or as much as it does in the version that Europe and its home Japan market gets—to give it a little more character and keep with the car's edgy tuner persona in the U.S.
Fun, but not too squirrelly

Turns out we had nothing to worry about. The front wheels seldom came loose in any significant way, and when they did the electronic stability control very gently nudged us toward composure, with the electric power steering bringing excellent feedback from the road surface.
While we couldn't test ultimate grip to the degree we did at Laguna Seca, the experience allowed us to focus on what matters to daily commuters—powertrain refinement, road and wind noise, and ride comfort, along with things like fuel economy and interior functions. Overall, drive the 2010 MazdaSpeed3 like a granny and aside from the slightly boomy exhaust note you won't realize you're in such an edgy vehicle. The clutch is light and takes up neatly, the shift lever snicks cleanly between gears, and although the wide tires tramline a little bit with the curve of the road, the cabin isn't overly loud. The ride is firm but not too much so.
2010 Mazda MazdaSpeed3
2010 Mazda MazdaSpeed3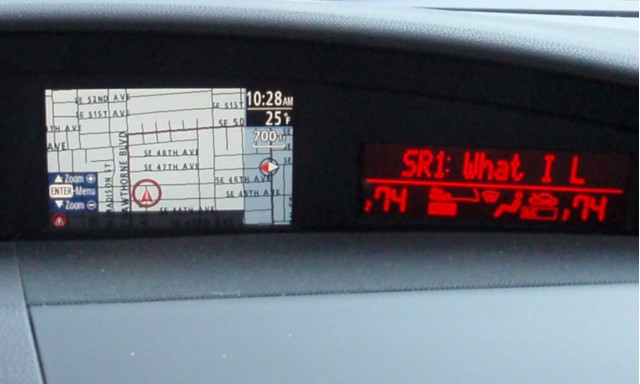 2010 Mazda MazdaSpeed3
2010 Mazda MazdaSpeed3
One aspect of the MazdaSpeed3's interior that we're still not sure about is the dual-screen instrument panel display. On Mazda's newer models, there are two small screens: On the left a high-contrast color screen that shows trip computer functions along with nav-system displays and audio information; on the right, a soft orange-red display for climate-control functions, also displaying audio information above. But the big dot-matrix-like display is virtually useless for RDS information, satellite radio, or anything else where the tag is longer than six or seven characters. What we're left wondering is, wouldn't Mazda be better served by a single, wider display, like the one that BMW uses?
Most other controls and displays in the MazdaSpeed3 were pleasing and straightforward, with excellent gauges and one of the best sets of steering-wheel controls we've found in any vehicle. Though we also noted that the huge 'play' dial in the middle of the dash, labeled "Tune/File," actually accessed very few functions except when navigating through music directories.
Frugal? Yes, surprisingly so
Fuel economy was another pleasant surprise in the MazdaSpeed3; over about 80 miles of local errands in very cold weather, and a 40-mile highway blast once it had warmed up, we averaged nearly 24 mpg. That's within a couple of miles per gallon of what we would have seen in a 2.5-liter 2010 Mazda3.
Of course, take full advantage of its power and its cornering ability, and we bet it won't be quite as miserly as a standard Mazda3—especially when it comes to tire life. And speaking of tires, if you plan to drive the Mazda3 in the white stuff, you'd probably be best getting some real winter tires, even though we luckily managed just fine with the SP Sports.
All said, there's no reason to be afraid of the 2010 MazdaSpeed3 because it lacks all-wheel drive, or you think it might ride a little too hard for daily driving. As far as we're concerned, it's earned its daily-driver stripes.