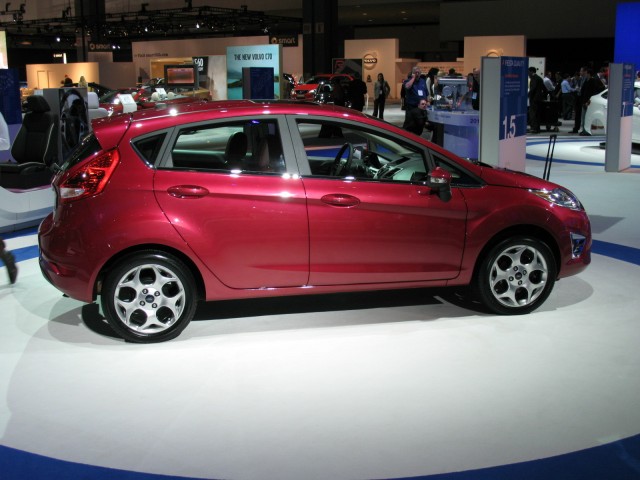 2009 Los Angeles Auto Show
After decades of shares product development, Mazda and Ford Motor Co. look poised to go separate ways.
According to comments made by Mark Fields, Ford's president of the Americas, last week to Bloomberg, Ford is planning to go it alone with future vehicles.
It's not altogether surprising. In late 2008, Ford sold its share in Mazda from 33.4 percent to just 13.4 percent, although it remains Mazda's single largest shareholder.
Ford has bet heavily on its new EcoBoost family of direct-injection, turbocharged engines, Mazda is developing its own families of next-generation direct-injection gasoline engines and diesel engines, plus an all-new family of automatic transmissions independent of Ford. There are no plans to share the technology with Ford, either.
This news comes just after the official North American introduction of the 2011 Ford Fiesta, a vehicle that was developed primarily by Mazda (the Japanese automaker sells its own Mazda2, which also made its debut at the show and will be sold here as a 2011 model).
Other current Ford vehicles built on Mazda underpinnings include the Ford Fusion and Mercury Milan, along with the Lincoln MKZ (all based on the Mazda6); Ford and Mazda also share components between the Mazda CX-9 and Ford Edge (and to some degree with the CX-7), while the Volvo C30, Mazda3, and European Ford Focus are closely related. And the Ford Escape and Mercury Mariner can still trace their original design back to the former Mazda 626 sedan. Engines are also shared; although Mazda and Ford use separate engine production facilities, the ubiquitous 2.5-liter four-cylinder units that are common in both automakers' U.S. lineups are nearly identical in design.
Both automakers have a long history of sharing products and platforms in the U.S. and elsewhere. For instance, up until the 2009 model year Mazda sold a rebadged Ford Ranger pickup as the B-Series in the U.S., while Ford sold a rebadged version of Mazda's pickup as the Ranger in other markets. At one time even Ford's best-selling Escort was built for the U.S. on a Mazda platform.
We'll likely see some level of technology and powertrain technology exchange for many years.  U.S. Mazda spokesman Jeremy Barnes told TheCarConnection.com that the automaker has no intention of ruling out the sharing of components or technology in the future, and that some possibilities would still be in the best interest of both companies given their financial ties.