2010 Honda Civic Si Coupe
It's no longer just Toyota that's running with the Big Three in terms of sales. Over the past month, Honda has quietly passed Chrysler as the number-four automaker in the U.S. market.
That places American Honda after Toyota Motor Sales and the new General Motors Company in U.S. sales.
The change in the ranks is more an indicator of a continued slide at Chrysler than it is a market surge for Honda. American Honda executive VP John Mendel told AN that the automaker has already made a "painful" decision to cut 200,000 units from its production schedule this year.
Earlier this fall Honda began producing 2010 Civic Sedans in Indiana, for export to Mexico, Latin America, and the Caribbean.
For calendar-year 2008, Chrysler managed to hold out and maintain its lead over Honda, but this year Honda has clearly pulled ahead. For 2009 year-to-date through October, Honda had sold about 185,000 more vehicles than Chrysler, and Automotive News now reports that through November Honda has a 200,000-unit edge on Chrysler, at 1.044 million vehicles. Ford, in third place, is quite a bit ahead with 1.37 million vehicles sold in 2009 through October.
Although Hyundai and Kia are run as separate companies in the U.S., they're products of the same South Korean automaker and if added together they're now the seventh largest, after Nissan.
Curiously, Honda has produced way more vehicles in the U.S. in calendar year 2009 than Chrysler. As of late November, Honda has built a total of about 655,000 vehicles in the U.S, while Chrysler, with its plants idled for a significant portion of the year, made about 425,000 in the U.S.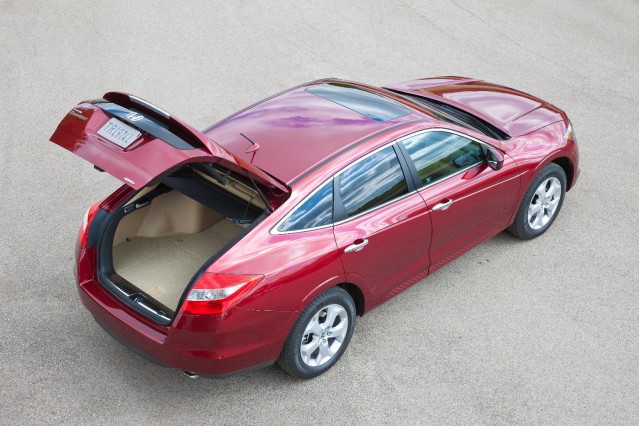 2010 Honda Accord Crosstour EX-L
2010 Honda Element
2010 Honda Civic Sedan
Honda has a manufacturing capacity of 1.62 million in North America (including Mexico), including 1.18 million vehicles in the U.S.:
2010 Honda Accord Coupe and Sedan; 2010 Acura TL and Acura RDX – Marysville, Ohio
2010 Honda CR-V, Honda Element, and Accord Crosstour – East Liberty, Ohio
2010 Honda Ridgeline, Odyssey, Pilot, and V-6 Accord Sedan – Lincoln, Alabama
2010 Honda Civic Sedan and GX – Greensburg, Indiana
The automaker also has the largest auto engine plant in the world, in Anna, Ohio, capable of building 1.16 million engines a year, plus a V-6 plant in Lincoln, Alabama, four-cylinder engine production in Alliston, Ontario (Canada), and automatic transmission plants in Russells Point, Ohio, and Tallapaloosa, Georgia. Honda also builds Honda CR-V models in El Salto, Mexico; and Civic Sedan, Coupe, and Si models plus the Acura MDX in Alliston, Ontario.