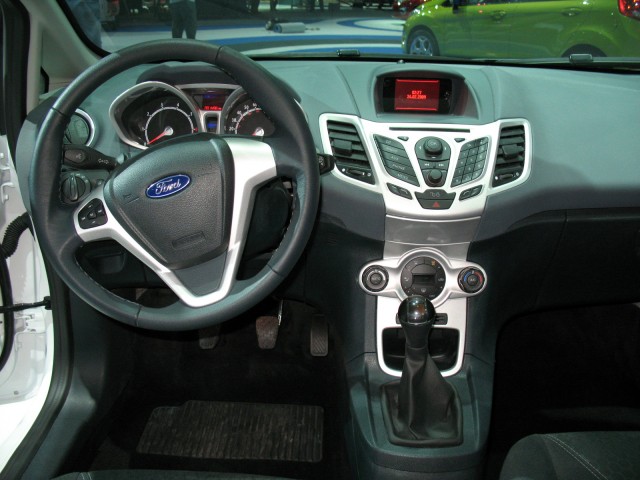 2009 Los Angeles Auto Show
2009 Los Angeles Auto Show
2009 Los Angeles Auto Show
2011 Mazda Mazda2
Whether it was an odd coincidence or a calculated move, the 2011 Ford Fiesta and 2011 Mazda2 were both introduced at the LA Auto Show, on the same day.
What makes it significant is that they're closely related. While we've heard varying figures, it's fair to say that they share more than just a few pieces.
TheCarConnection.com spent some time crawling through the Fiesta's interior and was pleasantly surprised at the high-quality look and feel of the cabin materials—for a car that will undoubtedly start at under $15,000.
The instrument panel has a nice, soft-touch grained surface, and all the matte-metallic trim used for various parts inside seemed to match. Seat fabric felt a little coarse, but it looked breathable and felt grippy; we also loved the hexagonal pattern of the fabric—subtle, yet distinctive.
The centerpiece of the Fiesta's interior is the center stack of audio controls, with hot buttons for audio and phone functions on the left side, plus volume scan, and select buttons large and right smack in the middle. While the climate controls look a little low, just ahead of the shift knob, the audio controls and display screen look to be a home run; for the umpteenth time we've heard that designers looked to mobile phone interfaces, but here it really works.
We attempted to follow this time in the 2011 Fiesta with a sit in the 2011 Mazda2, but it turns out the interior design and materials, as we see it in the show car at Los Angeles, is not in its final form. Materials, features, and even the design of the Mazda2's interior are likely to change by the time the full production version of the '2' is shown, likely at Detroit.
Though these two brands will probably say their vehicles aren't rivals, Mazda surprisingly has a lot to live up to.