2011 Ford Mustang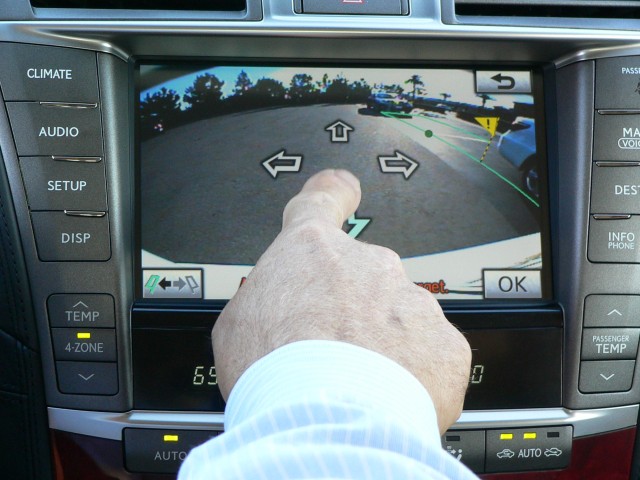 Active Parking Guidance System - in Lexus LS 600h
Spanning the range from mean to green, today's news at High Gear Media has a bit of something for everyone. Over at GreenCarReports, we have an interview with Tony Posawatz, vehicle line director of the 2011 Chevrolet Volt. He answers five pointed questions and gives us an idea of what's going on behind the scenes.
TheCarConnection takes a look at the automatic parking system in the 2010 Lexus LS 600h and asks if it does as good a job as Ford's system. The answer might surprise you. Also on deck: a Chinese company is looking to buy Saab, and self-healing paint, born in the car world, is now heading out into other sectors.
Meanwhile, Motor Authority has a close look at the new 2011  Ford Mustang V-6 ahead of the powertrain announcement due in Los Angeles this week. The 2010 Lexus LS 600h L also gets priced, and Dodge's chief rules out any future connection between the Viper and Ferrari.
CelebsAndCars hits some humorous notes with shots of Arnold Schwarzenegger and Kevin Federline. One's in a Porsche, the other's in a GMC. We'll let you guess which is which.
And around the rest of the High Gear Media network, there's even more to sink your metaphorical teeth into: AllSmallCars delves into the Mitsubishi i Minicar; AllAboutPrius takes a look at Toyota's social media efforts; and AllCarsElectric goes wild with a handful of stories from a turbine-electric supercar to details on the Infiniti EV. Catch all of these and more in the links below.
Did we miss something you'd like to see on High Gear Media? Want to join us in surfing the car-blog wave? Read below for instructions on how you, too, can become a High Gear Media car writer.
TheCarConnection.com
Does The 2010 Lexus LS 600h Park Itself As Well As A Ford?
BAIC Wanting A Foothold In The West, Now Turns To Saab
Self-Healing Paint Makes The Jump From Fenders To Phones
New Cadenza Could Feature First Kia Direct-Injection Engine
2011 Ford Mustang Gets New V-6: 305 HP, 30 MPG Highway
Preview: 2011 Chevrolet Cruze
Mazda2 Joins Electric Vehicle Project In Japan
Driven: Mitsubishi i Minicar
MotorAuthority.com
CMT-380 Hybrid Concept Comes Complete With Jet Turbine
Jaguar Land Rover Returns To Profit
2011 Ford Mustang V-6 Preview
Dodge Brand Chief Rules Out Ferrari Viper Connection
2010 Lexus LS 600h L Pricing Revealed
Alfa Romeo Drops Milano Name On 147 Replacement, May Pick Up Giulietta
2011 Chevrolet Cruze Revealed Ahead Of LA Auto Show Debut
GreenCarReports.com
Electric Supercar Concept Uses Small Turbine Engine To Boost Range
Five Questions: Tony Posawatz, 2011 Chevy Volt Vehicle Line Director
Preview: 2011 Chevrolet Cruze
CelebsAndCars.com
Kevin Federline Gets Gassy With A GMC Yukon
Schwarzenegger's Porsche 911 Cabrio Spotlights Arnie's Angst
From around the High Gear Media network
AllSmallCars.com:
Volt Speaks to the Youth of the Nation November 30th
AllAboutPrius.com:
2010 Toyota Prius: On the Road, And In Social Media Too
AllCarsElectric.com:
Hybrid Electric Supercar With Microturbine Technology to Debut at LA Auto Show
Volt Interior To Feature Mildly Psychedelic Design
OEM Suppliers Say Switching From ICE to EV Parts is Difficult and Risky
Upcoming Infiniti EV To Focus On Performance
EnerDel Scores Power Regulation Deal, Gets Toe-hold in SmartGrid Conversion
--------------------------------
Write your own car blog at High Gear Media! Sign up to write and tell car enthusiasts and shoppers what you think about your vehicle or today's car news and get published to High Gear Media sites like AllSmallCars, LexusReports, FamilyCarGuide and more!
Follow us on Twitter: @highgearmedia @carconnection @therealma @greencarreports and join our Facebook fan page