USB input in 2010 Mitsubishi Outlander
It's about time that another automaker took on Ford's Sync hands-free communication and entertainment interface. One of the best rival systems—at least in affordable vehicles—comes from an unlikely source: Mitsubishi. The new 2010 Outlander is the first vehicle to get the handy interface.
In a way, it figures. Mitsubishi used to have a geeky reputation in the U.S. and elsewhere; many years ago now, the Japanese automaker stood out from the rest with features like all-wheel-drive, active yaw control, speed-sensitive four-wheel power steering, and high-end audio with steering-wheel controls. With recent features on offer like the excellent Twin Clutch automated gearbox and now some much-improved navigation systems and in-car conveniences like FUSE, we see some of the old flame coming back.
Ford's groundbreaking Sync system (co-developed with Microsoft) has been the reigning king of in-car interfaces—and pretty much the only game in town for providing what it does. With Sync, users get a relatively fuss-free and intuitive way of controlling audio functions, making calls, and even reading messages—all via compatible Bluetooth or USB devices. Especially when you consider affordability, as Ford has offered the feature all the way down its product lineup (even on the very affordable Ford Focus) and included it at no cost on many of its larger vehicles, it's an unbeatable convenience.
Audio inputs - 2010 Mitsubishi Outlander
The FUSE system, which combines an all-new Johnson Controls (JCI) voice-recognition system and Bluetooth interface with Mitsubishi's next-generation nav-system screen from Mitsubishi Electric, provides some—though not all—of the features of Sync.
FUSE includes voice-activated music and phone commands and can recognize up to seven different phones, automatically synching up phonebook contents from each handset that's been paired with the system; unlike some other systems, it keeps them private to each user. While we've seen the Sync system be finicky about which phones it will or won't pair with, FUSE, we saw the system successfully pair with several different phones.
We right away noticed that you don't have nearly as many commands as you do with Ford's Sync, but just as with that system you can simply hold press a button along the steering wheel, then say, "Play Led Zeppelin," or "Play genre rock," and it does well. The command system also allows you to request playlists and albums.
As with Sync, you can hook up most major media players through the USB interface, and there's an iPod adapter. For those who also check the $3,000 Premium Navigation and Leather Package on the Outlander GT, FUSE can take control of the 10 gigabytes (out of 40 gigs) on the nav system's hard drive that are partitioned for music.
A company representative said that the onboard drive will only allow rights-protected files to be transferred over in analog form—a definite drawback. With or without the hard drive, most people today might simply opt for an inexpensive thumb drive. The system does have Bluetooth 2.0 and A2DP audio streaming, to play wirelessly from most audio devices and phones, except iPods.
Dig deeper and you'll notice that FUSE is missing a few features. For instance, it won't let you call out a specific song title, and although FUSE has seemingly excellent text-to-speech abilities on the music side, it doesn't offer that on the phone side of its operation. You can't simply ask it to "Call Joe Smith" unless you first establish a voice tag for Joe Smith—and all the other commonly used numbers in your phone book. Ford's Sync will automatically scan the hundreds of names in your phone book and pick the right one, and it will also read messages aloud through the audio system.
"What we're trying to do here is provide more convenience and a user interface that's safe," said a company representative, admitting that while the system lacks a few key features it's powerful platform and a starting point for greater features to be rolled out.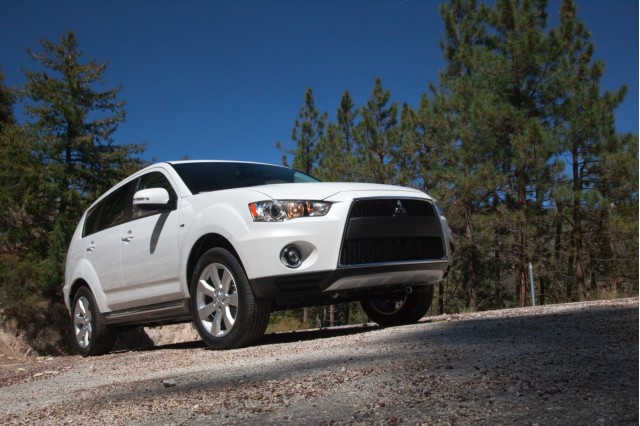 2010 Mitsubishi Outlander GT
FUSE is standard on 2010 Mitsubishi Outlander XLS and GT models, while it's a standalone option for just $350 on the mid-grade SE trim (Sync has been a $395 standalone option in some vehicles). Look for the feature to be rolled out on the Lancer, Ralliart, and Evolution models soon—likely for 2011.