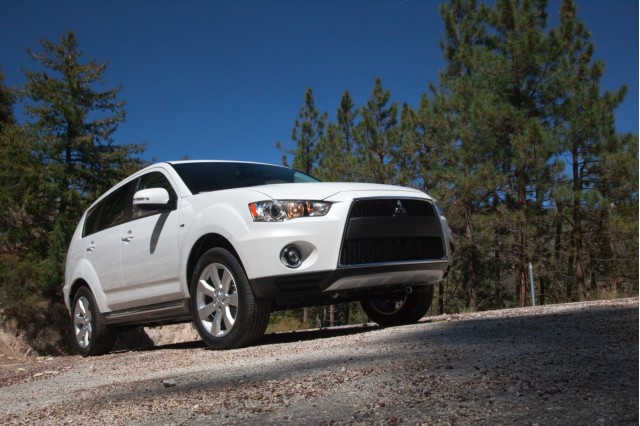 2010 Mitsubishi Outlander GT
2010 Mitsubishi Outlander GT
2010 Mitsubishi Outlander GT
2010 Mitsubishi Outlander GT
2010 Mitsubishi Outlander GT
In the three years since the second-generation Mitsubishi Outlander first went on sale, Mitsubishi has gone through a sort of identity crisis here in the U.S. market. While the Japanese automaker's compact Lancer models—especially the high-performance Evolution and Ralliart—have been generally well received, Mitsubishi's larger vehicles, including the larger Endeavor SUV, Galant sedan, and even Eclipse sport coupe, have lost their way in the market.
With a modest but transformation refresh for 2010, Mitsubishi is bringing the Outlander's styling closer to that of the Lancer on which it's based. A subtle set of design changes takes the Outlander in a more carlike direction on the outside, with fewer rugged SUV cues and the sharklike 'jet fighter' snout inherited from the Evo. Along with the front-end changes, the Outlander gets new aero work in front, a mesh grille, a new rear fascia, redesigned hood and fenders, and on most models chrome-accented side-sill extensions. Inside there are some much-needed soft-touch materials including, for the top trims, soft double-stitched synthetic leather padding where elbows go and for some of the dash. The vents and dials also get new bright accents, and all but the base model get a new multi-color LCD instrument display.
Altogether, the Outlander now looks sportier on the outside and doesn't feel nearly as cut-rate inside. But there have been quite a few other performance and tech improvements made to the Outlander this year, and the model that brings it all together is the new top-of-the-line Outlander GT. Only offered with the 3.0-liter V-6, which now makes 230 horsepower, the GT is the first Outlander to get a version of the Super–All Wheel Control (S-AWC) system used in the Evo and Ralliart. The system includes Tarmac, Snow, and Lock modes, selected with a knob on the center console, to cater the system's responses to specific conditions, with an Active Front Differential and electronically controlled center diff, for more seamless distribution of torque between the wheels (other Outlander models still offer a 4WD system offering 2WD and Lock modes).
The GT is the sportiest of Outlander models, trimmed with aluminum pedals and a blacked-out grille. but the one thing it doesn't come with is the Evo's excellent Twin Clutch automated manual gearbox. Instead, it gets a standard six-speed automatic that incorporates Sportronic manual control, with a manual gate in which the system actually holds individual gears all the way to full throttle. We also like the Outlander GT's paddle shifters, which are mounted alongside—rather than on—the steering wheel, making them easier to locate in tight hairpins, for instance.
2010 Mitsubishi Outlander GT
2010 Mitsubishi Outlander GT
2010 Mitsubishi Outlander GT
2010 Mitsubishi Outlander GT
2010 Mitsubishi Outlander GT
2010 Mitsubishi Outlander GT
The V-6 makes the Outlander GT feel spirited but not downright fast, and it turns into hard corners with as much alacrity as you could expect from a vehicle of this type. Only on the tightest corners will you notice that it's quite portly; at 3,780 pounds the GT is just too heavy to be called agile (even though aluminum roof panels and other measures to help keep the center of mass low). We noticed a jittery aspect to the ride over less-than-perfect surfaces, so while it was just fine for the mostly smooth highways around Palm Springs, the ride quality might be a little on the firm side for potholed Rust Belt roads. Also, likely because of its weight, fuel economy isn't great in the GT, at 18 mpg city, 24 highway.
To help, albeit slightly, with fuel economy there's a new Neutral Logic feature that automatically shifts the transmission to Neutral when at a stop with your foot on the brake. As soon as you lift from the brake—or even lightly move the steering wheel—it shifts back into Drive. Although the feature doesn't affect EPA City ratings, it will slightly reduce real-world fuel consumption for those who drive in heavy stop-and-go.
Two rather tall testers found the Outlanders driver's seat and seating position to be about perfect, despite the lack of telescopic steering adjustment. The back seats feel a little thin and flat, as they do in most other vehicles in this class, but they fold and tumble to a flat cargo floor. Cargo space is plentiful behind the second row, at 36.2 cubic feet but a little limited behind the third, at 14.9 feet. Of course, these third-row seats in the Outlander won't be used for anything but occasionally taking on an extra small child or two. They're that small.
The Outlander has a rear tailgate configuration that's a little more complex and clunky than a traditional, simple hatch, but we can see owners finding it handy. The arrangement combines a larger top-hinged hatch and a fold-down tailgate that includes a flat load surface and can function as a bench or hold up to 440 pounds.
The GT includes bi-xenon HID headlamps, cruise control, a FUSE Hands-Free Link (Bluetooth) System. and a more powerful 710-watt Rockford Fosgate premium sound system with nine speakers and a huge 10-inch subwoofer that occupies much of the left cargo wall. The only major option is the $3,000 Premium Navigation and Leather Package, which adds a power driver's seat, heated front seats, leather upholstery, a rearview camera system, and a 40-gigabyte hard-drive nav system with music server, real-time traffic, and carpool lane guidance.
Altogether, the GT as tested totaled $32,990 with the works. That's more than a loaded Toyota RAV4 Sport V6 or Subaru Forester XT.
The Outlander doesn't quite drive like an Evo or Ralliart, but its warmer, brighter interior and new front-end design helps avoid the homely appearance that's all too common in this class. And it's an good choice for those who must have a utility vehicle but really would rather be driving something else. More importantly for Mitsubishi, our first drive of the Outlander GT convinces us that a more upscale direction might very well keep shoppers from looking elsewhere.
--
High Gear Media accepted travel expenses in order to be among the first to drive the new Outlander GT.