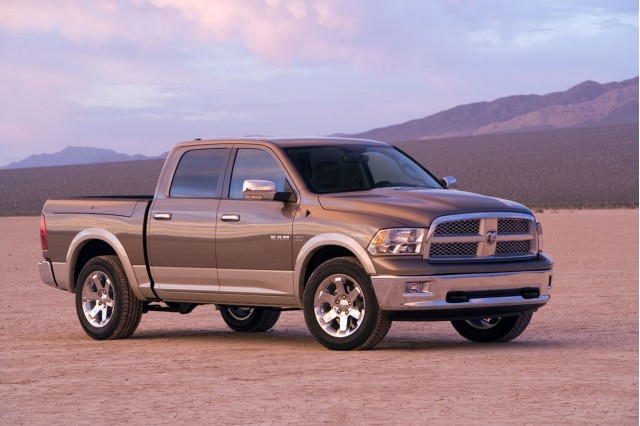 2010 Dodge Ram 1500
For a very long time in this country, about 20% of all sales came in the form of trucks.
Not what the industry calls "trucks" (i.e., SUVs), but actual pickups. That figure always astonished me; we simply don't have that many contractors, painters and plumbers and there are fewer actual "farmers" living here each day.
The only reason for high truck sales was image, and as if to prove this fact, a walloping recession has seen truck sales (as a percentage of all light vehicles) shrink in 2009 to what will be about 10% of the total by year's end, replaced by the likes of more crossovers that get superior mileage such as the Toyota RAV4 and Honda CR-V as well as surprisingly strong sellers like the Subaru Forester and Ford Escape.
Nonetheless it's true that if you work in construction or play hard (and often) in the outdoors, you'd prefer to divide the grime of your work/play stuff from yourself and your crew, and at such times nothing but a truck makes sense.
As big as Wyoming
And in that vein I recently put the $43,490 Ram 1500 Laramie 4x4 to work barging a posse of three, plus camping gear, plus mountain bikes, up to the northern wilds of Vermont for a long weekend of beer and mountain biking, with the 67-inch bed of the Ram serving as primary berth for the gear. A five-foot bed sounds dinky, kinda, until you flip down the tailgate and anchor in place the nifty (and easy to secure) bed extender which adds another two feet to the hold.
Also mucho appreciated, the RamBox configuration, where on the outside of both bed rails you get the equivalent of a few coolers' worth of extra (lockable) space. Rather than jamming these with beer (there's a drain hole when the ice thaws) we stuffed one with stinky bike shoes and the other side with spent, muddy bike clothing after each daylong slog through the woods.
Inside, the Ram is pretty posh (if a hair plasticky), with huge cupholders and smart details borrowed from Chrysler minivans, such as hidden in-floor storage, good for leaving wallets behind when you're hitting the trail.
And although we weren't doing any sustained off-roading, the rock crawl to our campsite demanded 4x4 tenacity. No problem: In 4-wheel-Hi we rolled easily through the muck and mire. There's also a low range, if needed, and this thing has a 5.7-liter HEMI, naturally, for serious grunt—although it's thirsty. We averaged 16mpg for the entire weekend, with lots of Interstate travel.
After returning from the road trip I instantly noted how the Ram's independent rear suspension (no horse-and-buggy leaf springs!) rides as well unladen as when jammed full of guys and gear.
A neighbor down the road with a competitor truck asked me what I thought, explaining that he's always incorporated a heavy aftermarket toolbox in the bed of his work truck, "to smooth out the ride." With the Dodge you'd already have the RamBoxes for that, I explained, but you wouldn't need to weigh this truck down. It rides great even if you're not one of the remaining 10% of Americans who actually hauls stuff for a living.
Get more, including TCC's full review and photos, specs and pricing, over at the newly updated 2010 Dodge Ram 1500 page.
---------------------------
Follow us on Twitter: @highgearmedia @carconnection @therealma @greencarreports and join our Facebook fan page