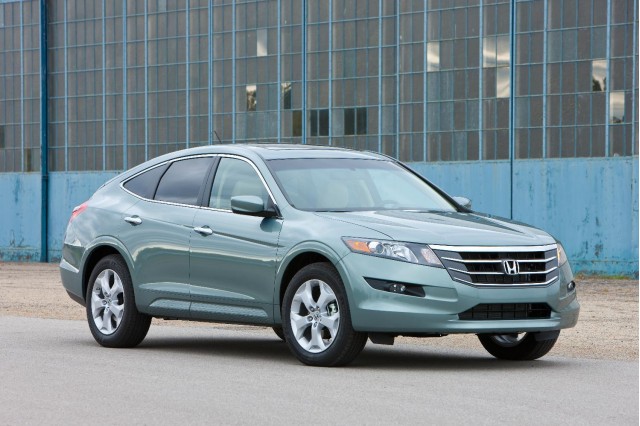 2010 Honda Accord Crosstour EX-L
It's been official since early July that the all-new 2010 Honda Accord Crosstour will arrive in showrooms this fall, but today the automaker finally revealed pricing for its latest model addition.
The vehicle is set to debut on November 20 with a manufacturer's suggested retail price starting at $29,670, plus a destination and handling charge of $710. The Honda's closest rival, the Toyota Venza, has been on the market for about a year now and is priced from just $25,975 so the Honda will definitely have its work cut out for it.
Derived from the Accord Sedan, the Accord Crosstour maximizes car-like ride and refinement, yet maintains capabilities consistent with a crossover's increased ride height and all-weather potential.
All Accord Crosstour models come standard with a 3.5-liter V-6 engine with Honda's fuel-saving cylinder deactivation technology. The engine produces 271 horsepower at 6,200 rpm and 254 pound-feet of torque at 5,000 rpm while achieving an EPA-rated city/highway fuel economy of 18/27 mpg on 2WD models. A 5-speed automatic is fitted as standard, and 4WD mode is offered as an option.
The Accord Crosstour is available in two model choices, the EX and EX-L. Highlights of standard features on the EX include dual-zone automatic air conditioning with second row ventilation, a 6-disc stereo system with seven speakers, easy fold-down 60-40 split rear seat back, 17-inch aluminum wheels, a moonroof and chrome detailing.
The more upmarket EX-L adds leather trim, 18-inch aluminum wheels, driver's seat memory function, special Kevlar cone speakers and a USB audio interface. Satellite navigation remains an option.
Pricing and EPA rated fuel economy (highway/city/combined) for the entire 2010 Honda Accord Crosstour range is listed below.
Honda Accord Crosstour 2WD EX 5-Speed Automatic $29,670 18/27/21
Honda Accord Crosstour 2WD EX-L 5-Speed Automatic $32,570 18/27/21
Honda Accord Crosstour 2WD EX-L Navi 5-Speed Automatic $34,770 18/27/21
Honda Accord Crosstour 4WD EX-L 5 Speed Automatic $34,020 17/25/20
Honda Accord Crosstour 4WD EX-L Navi 5-Speed Automatic $36,220 17/25/20
Also, check out our first drive of the vehicle by clicking here.