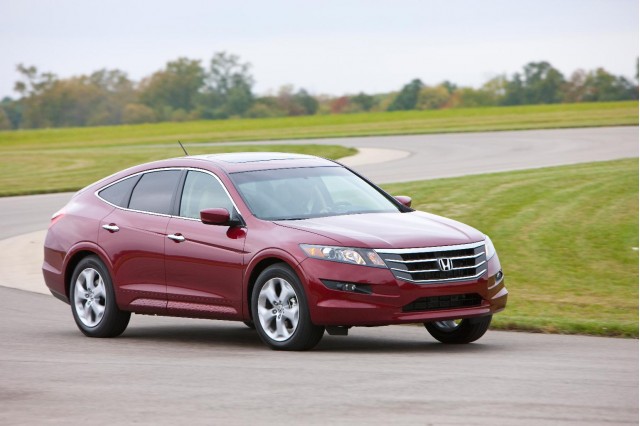 2010 Honda Accord Crosstour EX-L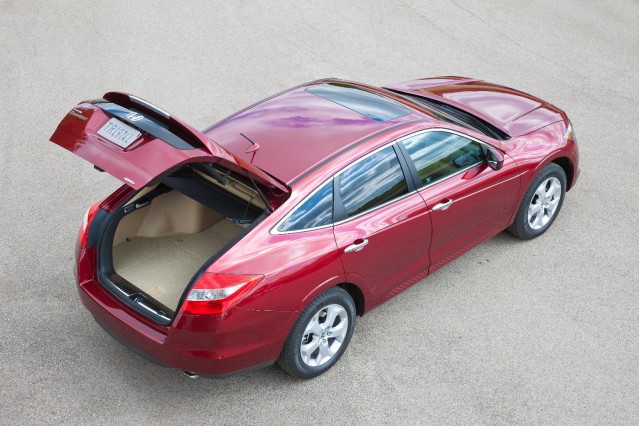 2010 Honda Accord Crosstour EX-L
Follow us on Twitter: @highgearmedia @carconnection @therealma @greencarreports and join our Facebook fan page
Honda's Accord Crosstour crossover is on the streets and being reviewed by the likes of our own John Voelcker. The verdict so far? Aside from being a bit pricey, and shy from its vicious Facebook debut, the Crosstour is still a Honda, and that means it's a comfy, pleasant, useful vehicle. Read the full first drive review in the links below.
Subaru has a surprise for us with the Legacy GTk, a fully-tuned and track-ready...wagon?...that's hot for the SEMA showroom floor. All of its gory details are in the links below too, though on the way you might get caught up on talk of a Ferrari's upcoming four-wheel-drive hybrid system, a new Lamborghini/Tag Heuer phone or Hyundai's Genesis Coupe in Forza Motorsport 3.
On the celebrity front there's a bit of a drought, but consanguinity with celebrity is close, right? Stephanie Pratt, younger sister of Spencer Pratt, gets a Schwinn beach cruiser to tide her over until her DUI hearing, and you can read all about it at CelebsAndCars.
Cycling around the rest of the High Gear Media network, many of the American brands and their dedicated enthusiasts are gearing up for SEMA, as the guys at CamaroBlog and MustangBlog can tell you. AllCarsElectric continues to pace the path of high-tech electron-fueled cars, both on the drawing board, the streets and around the beltway, while FordReports and ToyotaMonitor talk corporate profit and planning.
Did we miss something you'd like to see on High Gear Media? Want to join us in surfing the car-blog wave? Read below for instructions on how you, too, can become a High Gear Media car writer.
TheCarConnection.com
Rumor: Hyundai Developing Telematics To Rival OnStar, Sync
First Drive: 2010 Honda Accord Crosstour
Chrysler, GM Loans Include U.S. Production Goals; GAO Worried About GM
101-Year-Old Man Becomes Oldest Camaro Owner
Toyota: Floor Mats To Blame In Stuck-Accelerator Issue
Chrysler Recalls Rear-Wheel-Drive Cars For Front-Wheel Issue
Chrysler Offers Buyout Option To 23,000 U.S. Workers
Monday WTF Video: Wacky Serbian Guy Drives Half A Car
Ford Posts Q3 Profit, New Details For Corvette Stingray Concept: Today's Car News
MotorAuthority.com
Lamborghini Teams Up With Tag Heuer For New Meridiist Mobile Phone
Gullwing-America Previews Retro Kit For 2010 Mercedes-Benz SLS AMG
Ford Unleashes 2010 Cobra Jet Mustang
New Details On Ferrari Hybrid 4WD System
Chevrolet Hits SEMA With Five Radical Camaro Concepts
Subaru Unveils Track-Ready Legacy GTk Concept At SEMA
Lingenfelter Reveals New Camaro-Based Pontiac Trans Am Concept
Toyota And Lexus Say No Defect In Floor Mats, Recall Voluntary
Hyundai Genesis Coupe Goes Digital For Forza Motorsport 3
Chevrolet Camaro Z28 Image Leaked On Facebook?
Report: Mercedes-Benz Prepping SLS AMG Black Series
Ford Posts First Quarterly Profit In North America Since 2005
2010 European Car Of The Year Field Narrowed To 7 Cars
CelebsAndCars.com
Stephanie Pratt Gets A New Ride And A Court Date For DUI
From around the High Gear Media network
AllCarsElectric.com:
New Nickel-Lithium Battery Has Ultra-High Energy Density
I-MiEV Crowned With Car Technology of the Year Award
President Signs Bill Awarding $814 Million to Development of Green Vehicle Technology
CamaroBlog.com:
2009 SEMA Show Photos, 2010 Camaros Galore
2010 Yenko Camaro Announced with Details and Illustrations
MustangBlog.com:
Shelby Engines Offering Certified Performance Rebuild Services on Ford V-8's
AllSmallCars.com:
The Alfa Romeo MiTo is the Perfect Hatchback for Style Starved American Drivers
FordReports.com:
Ford Posts $997 Million Profit in Third Quarter
ToyotaMonitor.com:
Toyota Future Plans: Less Trucks, Fewer Bucks on Refreshes
--------------------------------
Write your own car blog at High Gear Media! Sign up to write and tell car enthusiasts and shoppers what you think about your vehicle or today's car news and get published to High Gear Media sites like AllSmallCars, LexusReports, FamilyCarGuide and more!