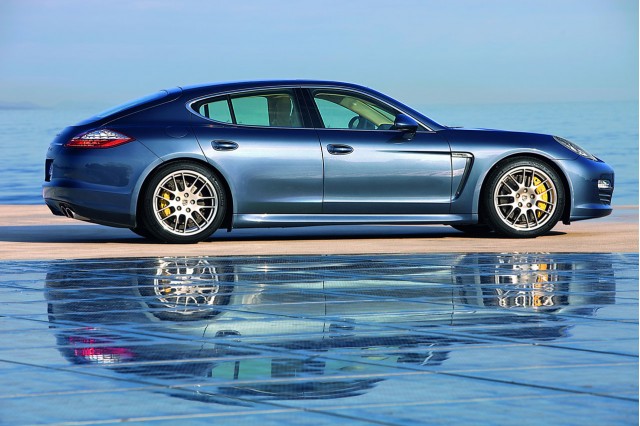 2010 Porsche Panamera
2010 Mercedes-Benz SLS AMG
Follow us on Twitter: @highgearmedia @carconnection @therealma @greencarreports and join our Facebook fan page
Today we have a slew of news from all over the spectrum: green to muscle, motorsport to amusement park. In fact, the last two are one in the same: the new Ferrari World theme park in Abu Dhabi where this season's final F1 Grand Prix was held, which is also the site of an incredible hotel/theme park complex that's still in its finishing stages. Catch the story at the link below to see a video of the planned park.
TheCarConnection also brings us a first-drive look at the 2010 Mercedes-Benz SLS AMG, news of Ford's first quarterly profit in North America since 2005, and a caution on the dangers of putting a big Camaro through a little drive through. At Green Car Reports, there's news of Nissan's LEAF EV tour dates plus a look at the range of the 2010 Volkswagen Golf TDI on a single tank of diesel. CelebsAndCars turns its paparazzi eye on popular food network host Guy Fieri and his garage, looking at the pros and cons.
The luxury and performance crowd at Motor Authority are reading about the 2010 Porsche Panamera's strong sales start, the unveiling of Chevrolet's 50th Anniversary Corvette Stingray Concept, and when that's done, they've got 90 new 2010 Mercedes-Benz SLS AMG videos to watch. Yes, ninety.
There's even more around the various stops on the High Gear Media network, including CamaroBlog's look at the new Yenko SS, complete with sketches and details. ToyotaMonitor investigates the factors behind Toyota's recent performance push, and FordReports delves into Ford's quality improvements over the last several years.
Did we miss something you'd like to see on High Gear Media? Want to join us in surfing the car-blog wave? Read below for instructions on how you, too, can become a High Gear Media car writer.
TheCarConnection.com
Video: 'Ferrari World' Theme Park On-Track For 2010 Opening
Ford Posts Strong Financial Data, First Profit Since 2005
First Drive: 2010 Mercedes-Benz SLS AMG
North America To Become New Export Base For Ford
Drive-Thrus And The 2010 Chevrolet Camaro: Not A Good Match
Ugliest Cars Of The Past 50 Years? You Might Be Surprised.
MotorAuthority.com
50th Anniversary Chevrolet Corvette Stingray Concept Official Details
2010 European Car Of The Year Field Narrowed To 7 Cars
2010 Porsche Panamera Off To Flying Start
Acura Sees Future Defined By Advanced Eco Technologies
Ford Planning Lincoln And Mercury Versions Of Kuga Crossover
2010 Mercedes-Benz SLS AMG: The Videos
Ferrari Theme Park Set To Open In 2010
Buick Releases Teaser Video For 2011 Regal Sedan
GreenCarReports.com
Nissan Announces Tour Dates, Cities for 2012 Leaf Electric Car
October's Most Popular Green Car Posts: Steampunk Toyota Takes It
How Far Can the 2010 Volkswagen Golf TDI Go On a Tank of Diesel?
Tesla Joins Tax-Incentive Trail for Not-Yet-Sited Model S Factory
CelebsAndCars.com
Pros & Cons: The Food Network's Guy Fieri's Custom Garage
From around the High Gear Media network
FordReports.com: Is Quality Finally Job One at Ford? It Sure Looks Like It.
CamaroBlog.com: 2010 Yenko Camaro Announced with Details and Illustrations
FamilyCarGuide.com: Ford Flex Finds Its Niche and Turns a Few Heads
ToyotaMonitor.com: Toyota's Performance Revolution Explained.
--------------------------------
Write your own car blog at High Gear Media! Sign up to write and tell car enthusiasts and shoppers what you think about your vehicle or today's car news and get published to High Gear Media sites like AllSmallCars, LexusReports, FamilyCarGuide and more!