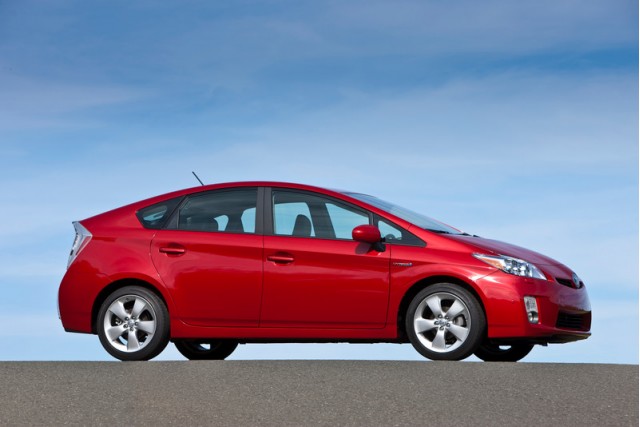 2010 Toyota Prius
In any normal vehicle, a slight drain on the battery is no big deal. But if you have a hybrid—or, for that matter, if you have a finicky old British roadster in the garage that needs to be hooked up to a trickle charger all the time—you want to minimize what's tapping into your power. That's why LoJack has announced a new self-powered stolen-vehicle recovery system, aimed at hybrid vehicles, collector vehicles, and future electric models.
Though it's not yet clear what the energy source will be for the "self-powered" system, LoJack says that this next-generation system—set to become available late next year—will allow more flexibility in installation as it won't have to be connected to the vehicle's electrical system. According to LoJack, more than a third of all breakdowns can be traced to too much dependence on the battery.
LoJack claims a 90-percent recovery success rate, and more than 100,000 tracked-and-recovered U.S. vehicles (250,000 worldwide). Additionally, the company says that its systems have led to discovery of chop shops and the recovery of thousands of other vehicles.
So far, at less than one theft per 1000 vehicles, the theft rate for vehicles like the Toyota Prius has been extremely low compared to most other models.
2009 Chevrolet Tahoe
Earlier this month, GM's new OnStar Stolen Vehicle Slowdown feature was put to the test for the first time when a 2009 Chevrolet Tahoe was carjacked in Visalia, California. Sixteen minutes later, According to OnStar, the vehicle had been stopped with the technology and the suspect was apprehended shortly thereafter.
Last week we reported that car thefts are on the way down again. Official 2008 numbers now out are down significantly from 2007, and the overall chances of theft are about a third of what they were two decades ago. While solutions like LoJack and OnStar are effective solutions for reducing car theft overall and cutting crimes-in-progress (hint: they also help cut your insurance rates), they're only part of the strategy for deterring thieves. We have a feeling that even with plug-ins and electric vehicles, thieves will find a way.
GM's intelligent new key fob
In order to reduce the chances that thieves will consider your vehicle in the first place, the National Insurance Crime Bureau recommends that, in addition to a tracking device like LoJack, you should have layer your defenses. That includes both a warning device, like an audible alarm or a visual cue like a steering-column lock, plus an immobilizing device, such as the smart-key systems in newer vehicles or a low-tech fuel cutoff or ignition switch for an older car.
Common-sense things like taking the keys with you and not parking in that dark alley? They wouldn't hurt either.