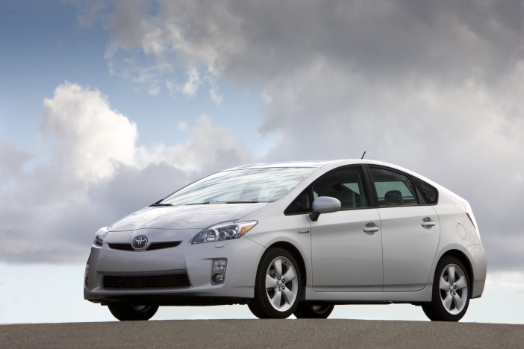 2010 Toyota Prius
The 2010 Toyota Prius is again the most fuel-efficient performer in the U.S. market, at 50 mpg Combined, while runners-up include the 2010 Honda Civic Hybrid (42 mpg), Honda Insight (41), Ford Fusion Hybrid (39), and Mercury Milan Hybrid (39).
That's the official word from the 2010 EPA Fuel Economy Guide information, which was released this past week.
The published guide, which has been produced annually since 1975 and was admittedly much more important in the days before instantly available fuel-efficiency information from sites like TheCarConnection.com and the federal government's fueleconomy.gov, hosts ratings for every U.S. passenger vehicle and light truck, along with a list of hybrid vehicles, compressed natural gas (CNG) vehicles, diesels, and those that can accept ethanol blends like E85. And if you happen to want a good ol' paper copy, you can still order one here.
Honda FCX Clarity production fuel-cell car announced
Only two production fuel-cell vehicles are listed in this year's guide. The Honda FCX Clarity is rated at 60 miles per kilogram of hydrogen in the city or the highway, with a driving range of 240 miles, and while the Toyota FCHV its mi/kg and range figures weren't available.
For ordinary gasoline vehicles, and for gasoline-electric hybrids, EPA Combined figures are used to calculate the Fuel Economy Guide's estimated annual fuel costs and calculated assuming 55 percent city driving, 45 percent highway driving, by mileage. These Combined figures are also used to determine compliance with Corporate Average Fuel Economy (CAFÉ).
Simply put, the EPA City estimate simulates urban driving; the vehicle is started cold and driven through a series of starts, stops, and idling. The Highway estimate uses a warmed-up vehicle and simulates free-flowing rural or Interstate traffic.
The final figure comes after a $7,500 federal rebate
The EPA ratings just changed substantially for 2008, when several new test cycles brought the city and highway ratings more in line with real results, but they're going to change again next year on a number of vehicles, as all automakers will required to run the new tests, not just adjust simpler results downward. Also looking ahead to next year and the Chevrolet Volt extended-range EV, along with other upcoming electric vehicles like the Nissan Leaf, the EPA will be deciding on a framework for comparing plug-in vehicles. Making it both fair to a wide range of plug-ins and easy to understand to short-attention-span shoppers will be quite the challenge.
Depending on which vehicle you choose, you could be subject to a tax at purchase or a credit at the end of the year. The guide identifies vehicles that require a Gas Guzzler Tax. See fueleconomy.gov for more info on this or which hybrid and diesel vehicles qualify for a federal income tax credit of up to $3,400 ($4,000 for CNG). Shoppers might be pleased to see that the guide clearly notes if premium fuel is recommended or required.
The EPA also lists the best vehicles in each class, but here's where it gets confusing: Rather than classifying vehicles by footprint or real market competition, the EPA does so by passenger and cargo space, while pickups are divided by weight rating. With that in mind, here's this somewhat-useful list of the EPA's Model Year 2010 Fuel Economy Leaders:
Two-seater cars
Smart ForTwo (automatic) – 33/41 mpg City/Hwy
Mazda MX-5 Miata (manual) – 22/28
Minicompact Cars
Mini Cooper (manual) – 28/37
Mini Cooper (automatic) – 25/33
Subcompact Cars
Toyota Yaris (manual) – 29/36
Toyota Yaris (automatic) – 29/35
Compact Cars
Honda Civic Hybrid (automatic) – 40/45
Volkswagen Jetta TDI / Golf TDI – 30/41
Midsize Cars
Toyota Prius Hybrid (automatic) – 51/46
Hyundai Elantra Blue (manual) – 26/35
Large Cars
Hyundai Sonata (automatic) – 22/32
Honda Accord (manual) – 22/31
Small Station Wagons
Audi A3 2.0 TDI (automatic) – 30/42
Volkswagen Jetta Sportwagen TDI (automatic) – 30/42
Volkswagen Jetta Sportwagen TDI (manual) – 30/41
Midsize Station Wagons
Volkswagen Passat Wagon (automatic) – 22/31
BMW 535i Sport Wagon xDrive (manual) – 16/23
Small Pickup Trucks
Ford Ranger 2WD (manual) – 22/27
Toyota Tacoma 2WD (automatic) – 19/25
Standard Pickup Trucks
Chevrolet C15 Silverado Hybrid 2WD (automatic) – 21/22
GMC C15 Sierra Hybrid 2WD (automatic) – 21/22
Hummer H3T 4WD (manual) – 14/18
Minivans
Mazda Mazda5 (manual) – 22/28
Mazda Mazda5 (automatic) – 21/27
Sport Utility Vehicles
Ford Escape Hybrid / Mazda Tribute Hybrid / Mercury Mariner Hybrid FWD (automatic) – 34/31
Jeep Compass / Jeep Patriot 2WD (manual) – 23/29