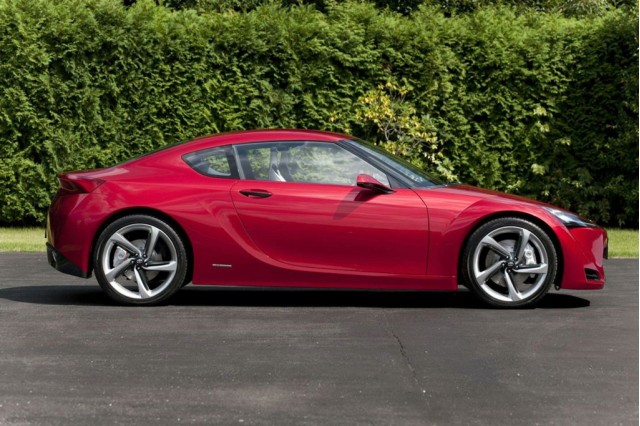 2009 Toyota FT-86 Concept
It's no secret that Toyota and Subaru have been collaborating on a new coupe for some time. In fact, we've mentioned the mythical "Toyobaru" on numerous occasions, and even hazarded a guess that Toyota's version of the lovechild might fill the gap left by the long-lost Celica. On Tuesday, Marty Padgett showed us the Toyota FT-86 (pictured at left), which may confirm our guesswork when it's fully revealed at the 2009 Tokyo Motor Show two weeks from now. As for Subaru, we've just come across renderings of its own "Toyobaru" offspring, and while the car certainly looks exciting, its future is far less certain. (We'd post an image here, but the owners of those renderings have gotten a little grabby.)
Like the Toyota FT-86, the Subaru coupe (name TBD) is a front-engined, rear-wheel-drive model, which is a little unusual for 4WD-friendly Subaru. Also unusual is the design, which is sleeker and more sophisticated than many of Subaru's chunky, rounded profiles. Because of these differences, the model appears to be causing division within Subaru's ranks.
The problem seems to be that this coupe speaks to a slightly different -- and slightly broader -- audience than the one Subaru currently reaches. After Subaru's marketing team evaluates consumer response to the vehicle, it may turn out that the coupe pushes Subaru into new demographic territory. That sort of expansion would be risky at any time, but far more so given today's fragile global economy and weak auto market.
Sales and marketing aside, however, there are some practical reasons that make producing the coupe a sensible move. Most importantly, Subaru is already supplying the platform, suspension, brakes, and two-liter, flat-four engine for the Toyota FT-86, and all of those components would also be included in the Subaru coupe. In other words, the company will already have many of the parts for the coupe on-hand. Moreover, the FT-86 is being manufactured at a Subaru factory in Japan, so we know Subaru has the facility to produce its own. (Although bandwidth is a different matter.)
We won't know anything for certain about the vehicle until the Tokyo Motor Show -- that's assuming Subaru chooses to unveil it at all. And we likely won't know until well after the show whether the coupe will make it into production. But for you Subaru fans, here's hoping.