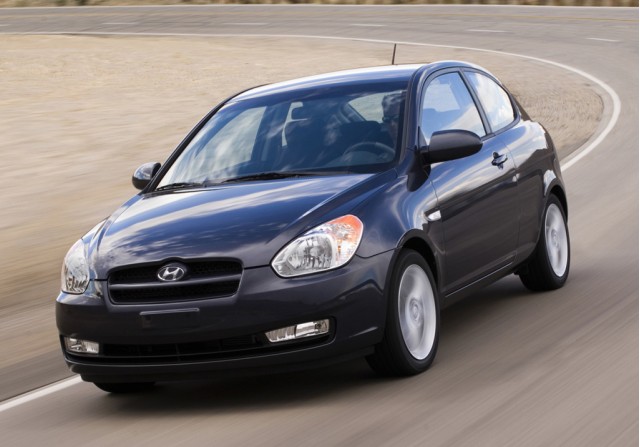 2010 Hyundai Accent
• What is it? The Accent is Hyundai's smallest and least expensive model in the U.S. but it's not lacking on style or features
• The basics: Three-door hatch or four-door sedan, as well as new "Blue" efficiency model
• On sale: Now
• Price: $9,970 to $16,995
As the smallest and least expensive model in Hyundai's U.S. lineup, the Accent comes as a three-door hatchback or four-door sedan, and for 2010 is offered with a new ultra-efficient "Blue" model.
The Accent Blue is the latest model in Hyundai's grouping of specially designed eco-friendly models that offer improved fuel economy and lower emissions than their standard equivalents. In fact, the Accent's fuel efficiency is improved by up to 9%, reaching as high as 36 mpg on the highway--better than the Honda Fit and Nissan Versa--and a combined fuel economy of 31 mpg.
2009 Hyundai Accent
Pricing for the new 2010 Hyundai Accent range starts at $9,970 for the Blue three-door hatchback equipped with a five-speed manual and 1.6-liter four-cylinder gasoline engine. The most expensive model is the SE three-door with a four-speed automatic and $16,995 pricetag. Note, these prices do not contain a freight charge of $720.
All 2010 Accents receive lower friction engine components, aerodynamic improvements, lower-rolling-resistance silica tires, a "smart" alternator management system and other enhancements all aimed at reducing fuel consumption. The Accent Blue receives the same treatment plus revised transmission gear ratios and lowered ride height to achieve even greater fuel efficiency.
2009 Hyundai Accent
To help Accent drivers get the most out of their cars Hyundai has added an economy indicator. The "eco indicator" on automatic transmission models is a green ECO light to indicate when the driver is achieving good fuel economy. Manual transmission models have an EcoShift indicator to inform drivers of the optimal time to shift.
Also new for 2010 is the addition of iPod/USB ports on all audio-equipped models, as well as blue backlit gauges on all models.