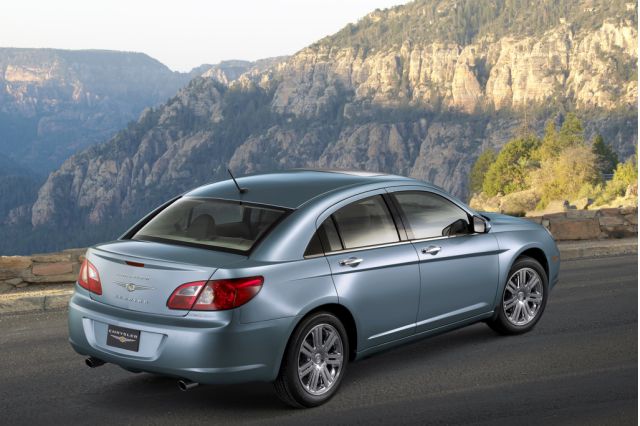 2009 Chrysler Sebring
The board of Chrysler Group met last Friday to approve the newly restructured company's five-year product plan, and although the full document won't officially be released until mid-November, a handful of the plan's details have already begun leaking out.
The most recent rumors concern two of Chrysler's low-selling sedans: the Chrysler Sebring and the Dodge Avenger. Neither of those models has done well in showrooms, and both were expected be pulled from the Chrysler Group lineup. In fact, the plant that manufactures the vehicles in Sterling Heights, Michigan, has already been scheduled for shut-down. However, it seems as if both sedans will now remain in production until at least 2012. It's not entirely clear whether the Sterling Heights plant closing will be delayed, or whether production of the vehicles will be shifted to another facility.
In an effort to boost sales of the vehicles, both the Sebring and the Avenger will undergo facelifts, with the Sebring's being far more substantial. They'll both need some serious reworking -- not to mention re-branding -- if they're to compete with the midsize segment leader, the Toyota Camry, which sells about six times as many units as the Sebring and the Avenger combined. According to reports, Chrysler had formed a team to analyze the midsize segment and suggest new vehicles for the company lineup, but that team, like other product development initiatives at Chrysler, seems to have stalled over the past year and a half. So, until Chrysler gets itself together and begins seriously working on new vehicles, redesigning current models is about all the company can do.
Chrysler's fate might be a little rosier if Fiat models were scheduled to arrive in showrooms soon, but that's not scheduled to happen until 2012 or 2013. The exception to that rule may be the Fiat 500, which is set to for North American production by late 2010/early 2011. News from Chrysler's corporate headquarters indicates that the 500 will be sold via Chrysler dealers, likely in a special area of Chrysler showrooms. And since that news comes from Peter Fong, CEO for the Chrysler brand and head of sales for all Chrysler group brands, we're guessing it's not just speculation.