2011 Ford Super Duty
Ford has taken the wraps off its new 2011 F-Series Super Duty pickup truck, which comes onto the market later this year with all-new powertrains, including a Ford-designed and engineered 6.7-liter 'Power Stroke' V-8 turbodiesel.
A new 6.2-liter V-8 gasoline engine has also been is added to the lineup, and both engines are claimed to deliver significantly improved torque and horsepower as well as class-leading fuel economy. Both engines are mated to a new 6R140 heavy-duty 'TorqShift' six-speed automatic transmission with pseudo-manual SelectShift control.
2011 Ford Super Duty
Ford's F-Series has been the best-selling line of trucks in the U.S. for 32 straight years, and the new Super Duty should only build on that legacy. The pickup made its debut at the Texas State Fair in Dallas today, where Ford was also showing off its latest Power Stroke V-8 turbodiesel.
We first reported about the new oil-burner late last month, where we learnt that the engine will feature several industry-firsts such as an inboard exhaust architecture and a unique single-sequential turbocharger with a double-sided compressor wheel mounted on a single shaft.
2011 Ford Super Duty
Engine outputs and EPA estimates, for both the new turbodiesel and gasoline units, should be released closer to the vehicle's launch later this year. What we do know is that the 2011 F-Series Super Duty will offer best-in-class towing and payload.
Particularly noteworthy are productivity enhancements to the F-450 pickup to benefit the heaviest-duty trailer tow customers. Unneeded weight was shed, helping to improve fuel economy and top speed. Even with these changes, the Super Duty F-450 pickup maintains its class-leading gross combined weight rating of 33,000 pounds.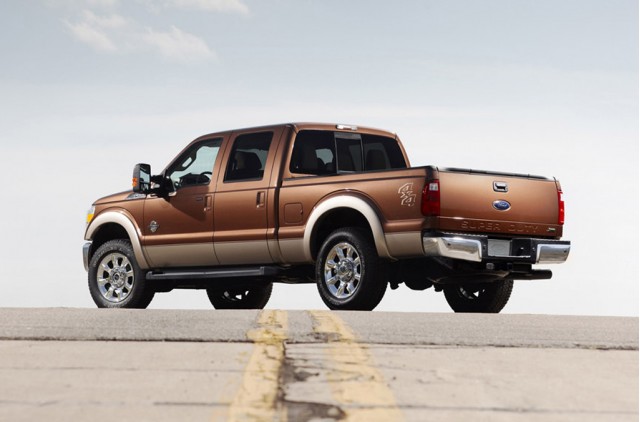 2011 Ford Super Duty
Other enhanced towing, off-road control features and safety improvements include Hill Start Assist, Hill Descent Control, an Electronic Locking Differential, a tire pressure monitoring system and optional side curtain air-bags.
One of the primary focuses for the 2011 Super duty was improved ride and handling. That's why the engineering team optimized the frame and suspension of the current Super Duty, particularly the leaf springs and spring rate, as well as adjusting the internal valving in all the shock absorbers to enable greater towing and payload capability with further ride refinement.
2011 Ford Super Duty
The steering gear also is new. The 4x2 F-250 and F-350 Super Duty feature modified steering system geometry to take better advantage of the twin I-beam suspension, which combines the performance of an independent suspension with the durability of a beam axle suspension. Improved response, precision and better on-center steering and control come from making the steering gear symmetric left to right.
Styling has also been revised, both inside and out, and customers will be happy to know that a new 4.2-inch LCD 'Productivity Screen' has been installed to take full advantage of the 2011 Super Duty's capabilities. Also available is a five-way button on the steering wheel that allows customers to navigate through various menu options--several relating to fuel economy and towing convenience--never before available on a Super Duty truck.