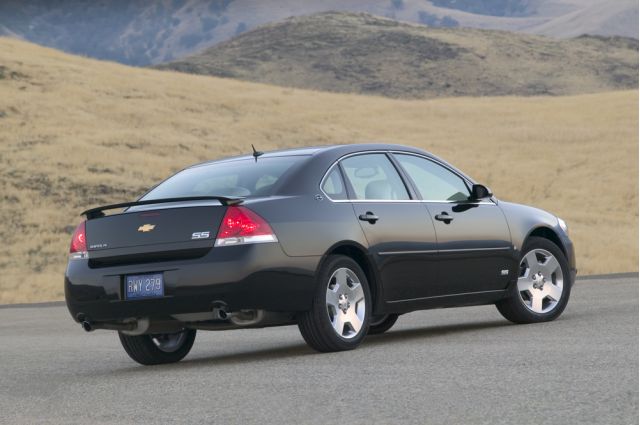 2009 Chevrolet Impala
You thought you got a great deal on a nearly new vehicle that was used as a company car. Yet weeks or months later, you find out that it doesn't actually have the side bags on board.
With any luck, you'll find that out before serious accident or injury, or before signing on the dotted line in the first place.
This could happen to you if you're not careful. If you look at a late-model used car that was formerly in a rental fleet, there's a chance that it won't have side airbags—even if it's a model for which side or side-curtain bags were listed as standard equipment.
Last month, rental giant Enterprise Rent-A-Car admitted that it had ordered a total of 66,000 Chevrolet Impalas from General Motors, saving $145 on each vehicle for deleting the side bags. Potentially, tens of thousands of additional GM vehicles—potentially 200,000 or more are affected, according to a source cited by the Detroit News, including the Chevrolet Impala, Buick LaCrosse, Chevrolet HHR, Chevrolet Cobalt, and likely the Pontiac G5 as well. GM isn't alone in this; among other automakers, Chrysler has also offered an airbag delete option in the past on several models. The Impala was an exceptional blunder for Enterprise as it's emerging that the rental-car company promoted the Impala as having side bags.
Hundreds of thousands of vehicles sold for duty in rental-car fleets or company fleets potentially lack these side airbags; now those vehicles are finding their way back into the used-car market and aren't always being properly labeled as not including this feature, which would otherwise be standard.
Last week, General Motors, which had taken some unreasonable heat in light of the Enterprise debacle, commendably has said that it will no longer offer fleet buyers the option to skip side airbags on its 2010 models. Thorax side airbags were newly standard—adding to the already standard side-curtain airbags—on the 2009 Chevrolet Impala.
Enterprise has said in comments to other media sources that it didn't violate any laws in opting out of the airbags. But since the Kansas City Star broke word of the rental-car company's practice last month, Enterprise has offered to buy affected vehicles back at $750 above Kelley Blue Book value.
Although automakers would technically be able to offer deletions for fleet use, beginning with the 2010 model year automakers will comply with a voluntary agreement to make side bags standard for all retail-sale light-duty cars and trucks.
2009 Chevrolet Impala
So if side bags are a must-have—as they should be—how do you make sure that any late-model used vehicle you're considering has them? Brian Goebel, a GM spokesman, suggested that shoppers simply look at the side pillar of the vehicle in question. If there is a label or logo indicating the presence of side airbags, then it's a vehicle that does have the included side airbags. A previous report from the Detroit News had cited a different GM official, who said that the affected models have an indication of the deletion in their owner's manual.
Better yet, to avoid lingering uncertainty and possibly compromised safety: get a vehicle title report from a reputable provider, like Carfax. Christopher Basso, a spokesman for the company Carfax, confirmed that the company's standard title-check service will indicate if the vehicle was originally sold for fleet use. If you're considering a fleet car and are suspicious that it doesn't have the airbags it should, ask for proof.
GM's Goebel confirmed that some of the vehicles without side bags might have been sold under the GM Certified Used program. The automaker has appealed to dealerships to replace any erroneous window stickers of the affected vehicles with ones that indicate the deletion; additionally any online features info for the vehicles has been changed to represent the safety downgrade.
According to Pete Ternes, another spokesman for General Motors, the automaker offered the airbag delete option in order to not have a competitive disadvantage with other competing models that cost less but didn't offer standard side bags.
Russ Rader, spokesman for the Insurance Institute for Highway Safety (IIHS), told TheCarConnection.com that this is an especially important issue to get word out about because whether or not a vehicle was originally sold for fleet use is not something that a car shopper is going to be able to readily discern.
"Some of these vehicles were advertised as having side airbags, and in fact they didn't," said Rader, adding that many buyers of those Impalas thought that they were getting a more comprehensive set of safety features for a good bargain.
And now the next time you rent a car, you also have reason to be a little more wary.