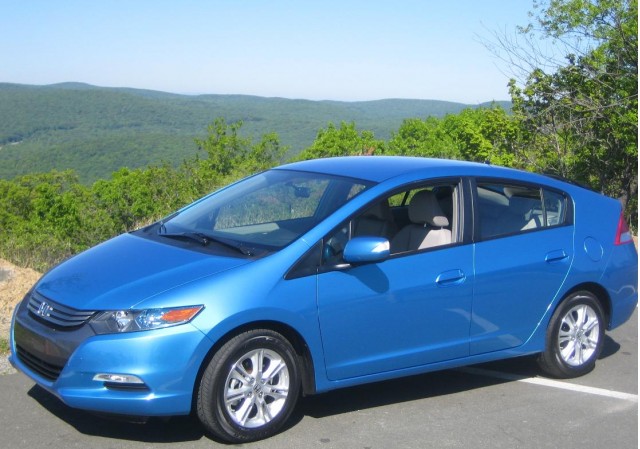 2010 Honda Insight - front three-quarter
The 2010 Honda Insight and 2010 Toyota Prius have been awarded with a "Top Safety Pick" label by influential safety group Insurance Institute for Highway Safety (IIHS). The annual award recognizes vehicles that do the best job of protecting vehicle occupants involved in front, side, and rear crashes based on ratings in IIHS tests.
To qualify for the Top Safety Pick, a vehicle must earn the highest rating of good in the Institute's front, side, and rear tests and be equipped with electronic stability control. Criteria to win are tough because the award is intended to drive continued safety improvements such as top crash test ratings and the rapid addition of electronic stability control, which is standard on the Prius but only optional on the Insight.
2010 Toyota Prius side
The actual test simulates a collision with an SUV or pickup truck moving at 31 mph, the frontal trials mimic 40 mph offset crashes with vehicles of the same weight as the test car, and finally the institute also simulates a stationary vehicle being rear-ended by another vehicle going 20 mph.
"The latest results show that consumers who want good fuel economy can also get a high level of safety," said Russ Rader, an institute spokesman, in an interview. This is an important finding as the laws of physics stipulate that size does matter when it comes to vehicle safety but now consumers can purchase a slighter vehicle and still achieve small car fuel economy.
[AutoNews, sub req'd]